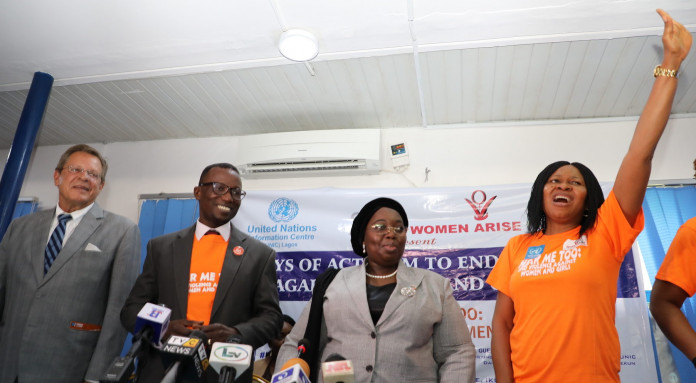 The United States Consul General in Lagos, Mr. John Bray, has said that impunity of silence and stigma have allowed violence against women and girls to thrive to the point it has become endemic.
He spoke at a public lecture in Lagos, with the theme, 'Hear Me Too: End Violence Against Women and Girls,' organised by the United Nations Information Centre (UNIC) in Collaboration with Women Arise for Change initiative, WA, 'to open the 2018 16-day Activism to End Violence Against Women and Girls.
The Consul-General said: "For far too long, the impunity of silence and stigma have allowed violence against women to escalate to endemic proportions.
"It is recorded that one in three women worldwide experience some form of gender-based violence. Sadly, this statistics is same in Nigeria, with so many women suffering in silence. The time to change these facts is now. We cannot afford to wait any longer. Women and girls in Nigeria must raise their voice, break the culture of silence and bring these abuses to light.
"We have locally supported groups such as WA to end violence against women and girls in Nigeria. We urge the Nigerian government and stakeholders to improve their efforts at eliminating violence against women. No woman or girl should live in fear, and girls should be entitled to growing up in a secured environment," he said.
Delivering her keynote address, the Lagos State Deputy Governor, Dr Idiat Adebule, decried the prevalence of violence and abuse against women and girls in spite of world-wide efforts to eliminate and called for continuous and conscious efforts at creating awareness and intensive campaign against the menace through programmes of action and promulgation of laws.
She said: "We cannot continue to stand aloof as women in our society are being treated as property, degraded and tortured. Citizens must champion the campaign to condemn in strong terms violence and abuse of women in our homes, workplaces, religious institutions and communities. Everyday should be a day to eliminate violence against women."
Adebule stressed the commitment of the Gov. Akinwunmi Ambode led-administration to protecting women against all forms of violence in the state.
"The government will continue to partner all concerned organisations committed to safeguarding the rights of women. Everybody must take active interest in fighting this plague against the womenfolk who are either your friend, sister, daughter or mother," Adebule said.
In her own presentation, Convener, WA, Dr. Joe Okei-Odumakin, posited that no real progress could be made in a society that encouraged violence against women and girls pointing out some of abuses experienced by women and girls in the country could be psychological, sexual, economic and physical.
She disclosed that her Initiative had handled about 4000 cases of gender-based violence out of which 45 were cases of men who were beaten or abused by their wives and five were cases of men killed by their wives.
"Presently, we have 22 pending cases in different courts across the country. We are using this medium to appeal to the judiciary to ensure speedy dispensation of justice to serve as deterrence," she said.
READ ALSO: Betty Bumpers, advocate for immunization and nuclear arms reduction, dies at the age of 93
In his remarks, Dr. Oluseyi Soremekun, Officer-in-Charge of UNIC, said that domestic abuse, female genital mutilation, child bride, trafficking, sexual abuse and other forms of gender-based violence were on the rise in Nigeria.
Soremekun said that 43 per cent of women in Nigeria were married before age 18 while 17 out of the 43 percent were married before age 15 disclosing that Nigeria has the highest record of child brides in Africa.
November 25, every year is celebrated as the International Day for the Elimination of Violence against Women.