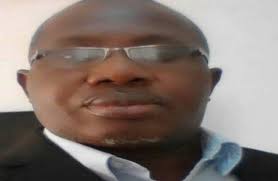 By Emeka Obasi

It is no surprise that Nathan Odilichukwu Obijiofor played the role of a jester in the Kings Court as a student of Government Secondary School, Owerri in the 1970s. 'Perils of Manhattan' was a popular play at the elite college.

Obijiofor won 400 meters Hurdles gold for Anambra State at the Kaduna 1977 Third National Sports Festival. He was also national champion in the same event in 1979. With eyes set on the United States, the athlete kept himself busy every morning by jogging from No. 77 Agbani Road to Ogui in Enugu.

One concerned neighbour, Papa Ebuka, called Obijiofor aside after one session, and advised him to further his education even if through Alvan Ikoku College of Education, if University admission was difficult, instead of running up and down, round Coal City.

Obijiofor's response was hilarious. I threw a proverb at him: "Onye ara na uche ya di" (meaning the mad man has his plans), he told me recently while we engaged in an intercontinental chat. Papa Ebuka was still worried after the snappy answer.

Education turned to opportunity cost when Obijiofor chose to represent East Central State ( ECS) at the Hussey Shield for Nigerian secondary schools in 1974. He had to repeat a class even when his best in the team was as a reserve.The student was happy to see the National Stadium Surulere, though.

"I had represented Owerri Zone in Enugu. I ran with the best then, Tony Okonkwo, Ikem Okoluo, Mgbo and I beat them all. The next day, the ECS newspaper, Renaissance, reported that, " from the far North of Owerri, came Nathan Obijiofor of Government Secondary School.

"When I got back to school, I told the principal, Mr. E. Odukwe that I had been invited to the ECS camp. He neither discouraged nor encouraged me. The implications were clearly tabled before me. If I honoured the invitation and missed my exams, I would lose a year. And that was exactly what happened."

His first time of representing Nigeria was in 1979, at the African Athletics Championships in Dakar. That team had superstars like Brown Ebewele, Hope Ezigbo and Felix Imadiyi. Obijiofor won silver in the 4×400 Relay

 and bronze in 400 m Hurdles.

Back from Dakar, the Hurdler got the long awaited letter from the US. Nothing else mattered. A trip to Lagos to obtain relevant documents was actualised while preparations were on for the Fourth National Sports Festival, Oluyole 1979.

 He said, "I got an admission letter from Ohio University, Athens. We knew it as Form I 20. It was a full scholarship, or what the Americans call full ride but without laundry. I discussed with my dad and in the night, I joined a Peugeot 404, ' Lagos by Air'.

"At the US Embassy, they said the scholarship didn't cover summer, so I had to produce my dad's bank account to show that he could take care of that. I thought fast. My father, a Divisional Police Officer, didn't have enough. Something told me to go to Kaduna."

Kaduna helped.  Obijiofor rushed to the Sports Council to meet Baras Inopere, a friend and rival, who directed him to the Director of Sports. Initially, the boss thought the national champion wanted to run for Kaduna. When they found out he was ready to fly, it was good news for the state to win a medal in the 400m Hurdles.

"The Director gave me a note and asked his driver to take me to No. 1 Sabongari. After 10 minutes, I was asked to pay One Naira Fifty Kobo for visa. In the next three minutes, my passport was handed back to me.

"The man who joined bus to Kaduna had to fly to Enugu. I still had some money from my Dakar camp allowance. Here, let me say that when I left Nigeria for America in 1979, all I had on me was 50 pounds which was the equivalent of 89 naira. What's the rate now?

Before the trip out of Nigeria, Obijiofor went to Enugu to ask for flight ticket from his emloyers, the Anambra Sports Council. They were more interested in another gold at Oluyole '79, than Ohio University. Dejected, he remembered Papa Ebuka.

"I only went to inform him that the jogger was on his way to America. The man shocked me. He bought my ticket. I never expected that generosity, I knew he was a businessman. The man said, 'now, I understand the saying, Onye ara na uche ya di'.

Obijiofor's journey to stardom was through punishment. "It was at school after the Civil War. In those years, class Two Boys were Lords over fresh students. Melody Odurukwe asked me to carry his books. I tried to be smart after that.

"Since new students did not know themselves, I asked my classmate, Henry Ikekpeazu, to carry my books. When the senior boys saw that, they reprimanded me. Ikekpeazu pounced on me, as we slugged it out the seniors intervened. We were punished."

The punishment involved running round the school field. Obijiofor got four Runs, Ikekpeazu, Three. When the senior boys discovered that the former had finished three runs while the latter was yet to finish two, one of them, Egejuru, knew a new runner was in town.

Obijiofor thinks Anambra should recognise him for the Kaduna '77 gold.  He said," That was the first ever gold medal won by the state. In America, even Universities have Sports Hall of Fame. I don't think there's any in Nigeria. I only got a letter of commendation from Governor John Atom Kpera."

In the US, Obijiofor also excelled. As an Ohio Bobcat, his best moment came when he won the Conference three times consecutively. He still lives abroad but is eager to return as soon as possible because, " there's no place like Nigeria, especially the South East."

He spent about a decade in Nigeria as from 2007, following Prof. Bath Nnaji, his friend from the Sports Council Days who was a champion Long and Triple Jumper. They were part of Geometric Power but the Nigerian environment did not help.

Obijiofor was also a goalkeeper. His children tried sports but have since moved to other things. Ifeanyi, Anayo and Chisom also watch American Football. The girls have visited 43 countries of the world. Chisom is in Australia presently and will be guest to Prof. Levi Obijiofor, the former journalist, who is  their dad's immediate younger brother.