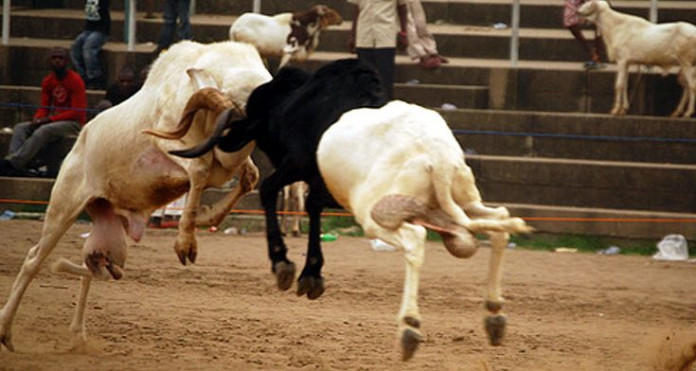 Eid-el-Kabir, the yearly muslim festival in which rams are slaughtered as a form of sacrifice, is here again and one of the events that precedes it is ram fight. Although this is not an Islamic practice according to Islamic clerics, it has become so common and accepted in Nigeria that there is an association called Ram Sports Promoters Association of Nigeria (RSPAN).
Ram is the preferred sacrificial animal on the day of Sallah. It is a tradition, which is based on the story of Prophet Ibrahim (Abraham) and his son, Ismaeel.
Prior to the slaughtering of rams on Sallah day, some engage their rams with those of others as a form of entertainment. Some people go with their rams to the field and place bets on the rams. The winner of the fight gets the money. Some people win as much as N100, 000, it was learnt by  The Next Edition.
At Ashade market, Lagos, there is a popular ram market. One of the dealers, who simply gave his name as Umoru, directed our correspondent to where it is a common practice.
"If you go to Oshodi in the evening, you will see it happening in open fields. It is something that happens a few days to Sallah. The field is usually crowded with people from all walks of life. They gather to witness the fights," he said excitedly.
In this area, it has somewhat become a tradition to set rams against themselves. Some fight to death, while some sustain serious degrees of injuries.
The Next Edition learnt that some ram owners from the Western part of Nigeria, comprising Osun, Kwara, Ogun, Lagos, Ondo and Oyo take their rams to Lagos for the official annual ram fight.
Unlike the regular ram fights, the official ram fighting competition usually takes place at the National Stadium in Lagos.
There are different categories just like boxing. For instance, a big ram wouldn't be paired with a smaller ram. There are eight weight categories and referees. This competition has gained so much popularity all over the country so much that it has become another form of entertainment.
However, Islamic scholars have condemned ram fights in the strongest terms and warned Muslims to desist from the act.
Uztaz Sheriff Mustapha told  The Next Edition that, "animals shouldn't be subjected to torture for any reason."
According to him, Islam has stated clearly how every human being should relate with living things, including animals.
"Animals also have their rights," he said, adding "when you are about to slaughter a ram, you have to make sure the ram doesn't see the blood of the rams that were killed earlier. It is also a sunnah(ways of prophet Muhammad) to make sure you cover the eyes of the ram with the ears so that it wouldn't see when the knife is cutting the neck. The knife also has to be very sharp so that the death would be swift."
"Unfortunately it is fast becoming a common practice. Some do it for fun, while some others do it for money. It is wrong because it goes against the teachings of Islam. Whoever does it and refuses to stop will be punished by Allah on the day of judgment," he warned.
Mr. Nurudeen Lawal, another Islamic scholar based in Ilorin, Kwara State capital, spoke with  The Next Edition about the sports, which he described as "sports of ignorance."
He said, "I am sure many of them don't know the implication of what they are doing. It was prevalent in Ilorin but not anymore due to constant awareness campaigns. Every right thinking Muslim must condemn this practice. Prophet Muhammad (pbuh) said "Whoever is kind to the creatures of God, is kind to himself."
Continuing, Mr. Lawal said "There are other ways to entertain ourselves as human beings. Some people are even comparing the ram fight with boxing. It is wrong. Boxers have a choice. They can choose to fight or not. These rams are forced to fight. We hear that some people even force them to take alcohol and hard drugs. It is unfair. Woe be upon anyone that maltreats animals. We are calling on the relevant authorities to put an end to this unholy sport."