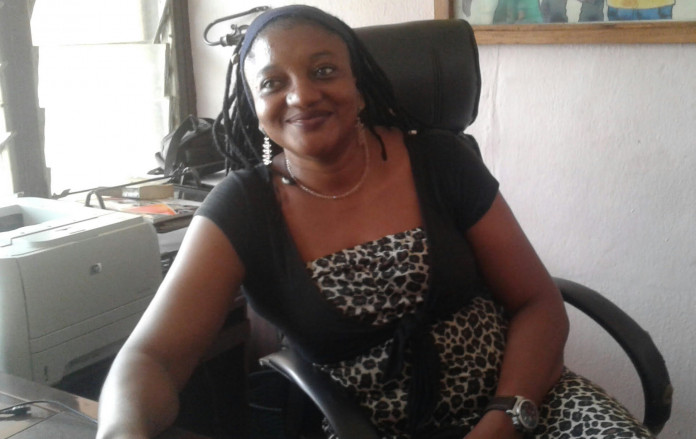 Dr. Mrs Helen Teghtegh is the Director of Community Links and Women Empowerment Initiative, an NGO based in Benue State. In this interview with The Next Edition's Dooshima Hir, Mrs Teghtegh speaks about the worrisome activities taking place at IDP camps in Benue with regards to sex for food, trafficking, women giving out their children, as young as nine years, in marriages to beat hunger, among other issues.
What is your NGO all about?
Community Links and Women Empowerment Initiative is a Non Governmental Organization, NGO. We have been here for about 13 years beginning from 2006. It is an organization that started out of deep passion for the less privileged especially the women and the children. We started with the vision to see a society where individuals and groups explore their inner resources and realise the full potentials in them. It's quite huge so we work with groups, individuals, communities, linking them up to openings where they can explore and realize their potentials. We have thematic areas. We work in humanitarian intervention and weare concerned with working with the displaced by mobilizing resources for them and building their capacity. Where it is a conflict situation, we are also into peace building. We also work under health. In health, we do HIV/AIDS especially among women and children who are affected or infected by the virus. We also have another area in health which is quite new but we are intervening in it. I am talking about mental health. We are working with people who are substance dependant. We no longer call them substance abused people but substance dependants, especially among the youths and among the girl child. It's amazing, according to our findings, how women are also depending on substances, probably because of the trauma or the issues they are going through. Another thematic area we have been working on is the environment. Recently, we are looking at gender and climatic change. Before them, we have been into Water, Sanitation and Hygiene (WASH) programme. We worked among school children and currently, we are working among the Internally Displaced Persons (IDPs) in over 12 camps across the state. We are into women empowerment, among others.
What are your organisation's recent activities?
In the last eight months, we have worked with over 500 women in area of agriculture in two communities, empowering women farming tomatoes and pepper. We have carried out interventions to see how we can reduce post harvest loses. We had a funder; the T.Y Danjuma Foundation, who
provided two drying machine to empower 250 women in each of these communities of Gboko and Tarka. That's one key thing we have done in the last eight months.
We have also been working in the area of HIV/AIDS where we are catering for over 5000 persons who are affected or infected with the virus. We built capacity to ensure that those who are infected are following up with their drugs religiously and those who are affected, especially the care givers, who don't have the wherewithal are identified, trained and exposed to agriculture so that the nutrition of the infected persons can be taken care of within the households. Thirdly, like i said, we are working among the IDPs in 12 camps, with support from UNICEF, they are taking the aspect of WASH and the promotion of hygiene among the IDPs. Evidently, these three things have been ongoing.
With all the capacity building, have you noticed any remarkable progress in the attitude of people especially among People living with HIV/AIDS in following their drugs?
There have been a remarkable improvement especially among the over 5000 persons we are working with, especially among the women. We have what we call tracking whereby those who are infected are tracked and followed up to ensure that they are consistent in taking their drugs.
We have recorded high success in that. But one of the challenges we bumped into is that the issue of stigma is still high in Benue. You find people who have accepted their status and who are taking their
drugs but because of issue of stigma, leave their immediate facility and travel away, to another town or another facility outside the state to take their drugs. Yes, they are taking their drugs but this one
factor is making it expensive especially because they have to travel. So, the issue of stigma is still very high even in Benue state.
So, how are you dealing with this?
Well, a lot of sensitization is going on especially among the people we are working with for them to overcome self stigma. Once they overcome stigmatizing themselves, they can face whatever stigma that
comes from outside. Some days ago, as an organization, we were putting down strategies to respond to this issue more elaborately. We want to carry out a more elaborate sensitization; it may be through a music show, discussions beginning with the local governments that we are working with.
With enormous work put into issues of HIV/AIDS by NGOs, what is your assessment of the level of spread of HIV/AIDS in Benue? Would you say the rate of infection has reduced?
There are different dynamics to this; the NGOs have done so well in terms of sensitization and identifying the infected people and encouraging them to be enrolled so as to take their drugs. However,
there are other special group of persons who have not really been reached to the grassroots where they need to be tracked and if tracked, we can now act on the overall to ascertain the reduction of the spread. I'm talking about these special people called the MSMs that is "Men Sleeping with Men". They are a special group and we know they also exist in Benue, in their numbers. So we deal with them under a confidential enclosure. So, they are special group of persons who are existing and because of stigma, have not made themselves available to access help and not every facility is open to them and you notice that the issues of this special group of persons is on the increase in the secondary schools and they are exposed to these. We have the commercial sex workers who some are consistent with their drugs and
some are not. So with this different dynamics, you noticed that you can't readily say that the impact is reducing, talking about the spread. Again, with IDPs in the state, we don't have any intervention on HIV/AIDS in the camps and everyday, you find more women getting pregnant. We have trafficking going on, child marriages going on, we have sex for food going on in these camps and they are all exposed and at the risk of contacting this. So, even if we had made reasonable impact before this outbreak, we can't ascertain the impact of HIV/AIDS in Benue state as it is now. However, before now, SACA sent out some data of a huge number of reduction in the spread in Benue state. These are the windows we have now except they carry out another research, we can't for sure talk about the reduction or the increase of HIV/AIDS in Benue state.
You said there was no HIV/AIDS intervention in the camps, so who is taking responsibilities of the IDPs?
Issues of HIV intervention in the state basically, is saddled with SACA or the state ministry of health whose presence has been lacking in all the IDP camps as I speak to you. Of course, we have international partners, World Health Organizations (WHO), Doctors Without Borders and ICRC who brought in medical interventions but they are limited. They are working with specific categories of people. ICRC and Doctors Without Borders would attend to children under 0 to 5years. So what happens to 5 and above. These are responsibilities of the ministry of health but they have not risen up to the responsibility yet. We have spoken to SEMA who is a co-ordinating body and we are hoping they will be able to talk to the ministry of health to stand up to their responsibilities. I think it is also a grey area for other NGOs to intervene. We are ready to intervene if we have all the support.
You stumbled on child trafficking, child marriage, sex for food while working in the camps, did you report this to any government authority?
(Cuts in) Definitely. We captured those in our reports to SEMA and IPs who are working with us are also privileged to this information. Under the coalition of civil societies, we are supposed to send a letter NAPTIP over this.
With all you mentioned, your organization seems to have done a lot. What are your sources of funds?
That has been one huge challenge for this organization; sourcing of funds. However, we have been lucky to have worked with other six partners so far. We have worked with Catholic Relief Fund, T.Y Danjuma Foundation, and presently, we are working with the APIN, still on the issues of HIV/AIDS and others. However, there is more we can do if given the necessary exposure and linked up with the much needed funds. We started very little and have been striving on our own, probably, what we have done has spoken for us and brought in the aforementioned partners. We are ready to link up with many others so we can do more. Last year during the flood, we were privilege to work with Sterling Bank, I was shocked. Sterling Bank stepped into town and was looking for a creditable organization to work with and for a bank to give you their money (laughs) they gave us over N2million to procure things for the IDPs. This alone speaks of our integrity and how open we are to work with people. If we have suffered one thing, it's publicity. Probably, because we didn't meet the right people, didn't have the needed funds and right personnel. But we are teachable and ready to partner with anyone to bring positive changes to our society.
READ ALSO: Forensic Auditors Warn ICAN over unbridled utterances
What other challenges have your organization faced in the course of working for the less privileged?
We are an empowerment organization, so if you have money, the right staff stay but most times we pick staff, empower them and they go but that is not a problem. If they get better opening, they are free to go. They only stay if you have enough money to pay them. But so far, so good.
Looking at many areas yearning for intervention, in what areas would you advice government and other NGOs to come in?
Presently, in the camps, among the IDPs, there is no food. We have five IPs with the national humanitarians funds carrying out interventions in the IDPs but their interventions are in the areas of
educations and health. Basically, they are a psycho-social support and recently UNPA in reproductive health. Nobody is bringing food. The Benue state government through SEMA is over-saturated, they didn't envisage that the IDPs on camp were going to stay this long, so no intervention in the area of food which is why some of the things I mentioned were happening. A woman will give out her nine year old child to be married out just because she wants to reduce the number of persons she has to feed. No food. People are hungry. So I will call on SEMA, spirited individuals to step into Benue state and respond in the area of food. The children are going to school now, thanks to UNICEF and have all the materials to use but they are hungry. Secondly, you have other organizations with expertise for peace building, it's about time we started looking out for a lasting solutions to these issues. We need these experts to come in and we the local NGOs are ready to collaborate and synergize with them for lasting peace to come to Benue state.
But with more emphasis, I want to state that I am concerned about the girl child. It's a personal passion that boils within me and as an organization, we carry out routine needs assessment among the IDPs. So last four months was when we bumped into this that young girls were been given into marriage. We have cases in Daudu 2 and other cases around some of the camps where young girls are given into marriages by their mothers, especially mothers who have seven, eight, nine children and are living with them on camp. We have 9years old, 12 and 13 year old but under 18years children being given into marriage. The reason was not away from this that there was not enough food to feed the children. And giving out a daughter was a way of solving or removing the pressure from the mothers in the camp. And when we discovered these, we reported to SEMA, we also shared the information among other IPs like UNICEF about it that this was the issue going on at the IDP camps.
As an organization, we started documenting it so we can have a data of how many of these families have given their daughters out in early marriages. It is slow because we need resources, first to travel or move into these towns to do that. I have interacted with three women to see if they can pull these children away, especially the girl that is nine years old but she said it will be a cultural thing. She is married, if we bring her back, she will be stigmatized as running away or returning from a husband's house. How do you pull out a child when the parents have not given their consent? We couldn't do that. What we are doing is to sensitize the mother that now, you have schools in the camp, send them to school. We are also telling them the implications of marrying early and what it means for them to go or not to go to school. That is what we are doing as an organization. We will work better if we have all the data to see if moving forward, we can trace these children even in their husbands houses to see that they are being sent to school. We called Nigerians to send in food to the IDP camps.
Another alarming thing government should look into is that there is an inflow of people moving into the IDP camps now looking for cheap labour, house help among the IDPs. They are looking for people who will either baby sit or serve as cooks. These people are venerable. For now, we have a few who may go into town, serve then get back to camps. I don't have the figures but as I speak, we have people being repatriated outside the state to work in the farms outside Benue state. Someone in camp told me that in the evenings, people coming in with trucks to carry young boys at the camp to work for them outside Benue.