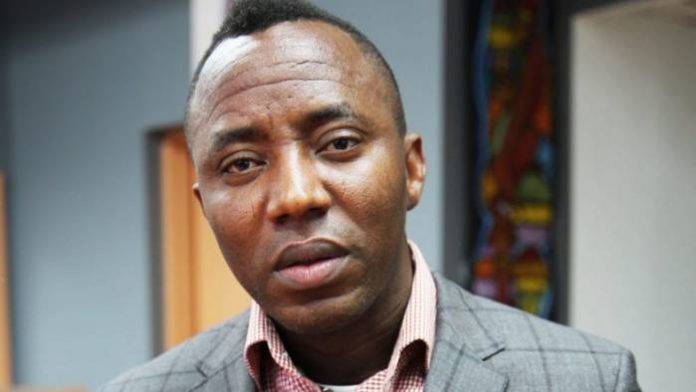 The International Human Rights Committee (IHRC), Geneva, Switzerland (Nigeria Committee), has frowned at violence by the state against Nigerian citizens.
The IHRC, in a statement made available to The Next Edition, maintained that the gory picture of security operatives forcefully abducting Omoyele Sowore on Friday in the full glare of a Federal High Court sitting in Abuja with a presiding judge on seat was gross violation of his fundamental human rights.
The statement, signed by Dr. Kenneth Anozie, IHRC Nigeria Committee spokesman, stressed that the action of the operatives of the Department of State Service (DSS) amounted to descent into anarchy, fascism and grossly violated all known fundamentals of democratic tenets.
The IHRC said: "It is not just about the person of Sowore, but this is a national disgrace by a government which conducts have been severely criticised by all known democratic organs and institutions, both locally and internationally.
"This a blur in the democratic efforts achieved in the past 16 years, but especially in the past six years before the Buhari/APC regime came into power.
READ ALSO: Sowore: Rights Commission Urges Law Enforcement Officials To Respect Law
"We as a human rights organisation will not fold our hands and watch Nigeria, which is a signatory to the International Human Rights Commission Charter, and a member of the United Nations subject her law abiding citizens into such violence and gross violation of their fundamental human rights.
"The Nigeria Committee of IHRC, Geneva, is in touch with our international headquarters on these issues and soon, we shall take it up so that such incidences of state sponsored violence against her citizens will be abrogated and confined in the dustbin of history."
It maintained that all the nations had been moving rapidly to establish full democracies and institute rules based on respect of the human rights as enshrined in the charters of the International Human Rights Commission, and the Human Rights Charter of the United Nations.
IHRC added that the Nigeria Constitution in Chapter 39 detailed the rights the citizens would enjoy under its democracy, adding, "The minimum, we at the IHRC will accept is respect for the laws of the country."
It stressed: "As we work to end such violent violations of the rights of the citizens, we enjoin all the peoples of Nigeria to show greater respect for its laws, and call on the judiciary as the last hope of the common man not to abdicate its sacred responsibilities of dispensing justice, no matter whose ox is gored.
"We use this medium to call on the Federal Government and her security agencies to stop subjecting her citizens to untold future and siege."