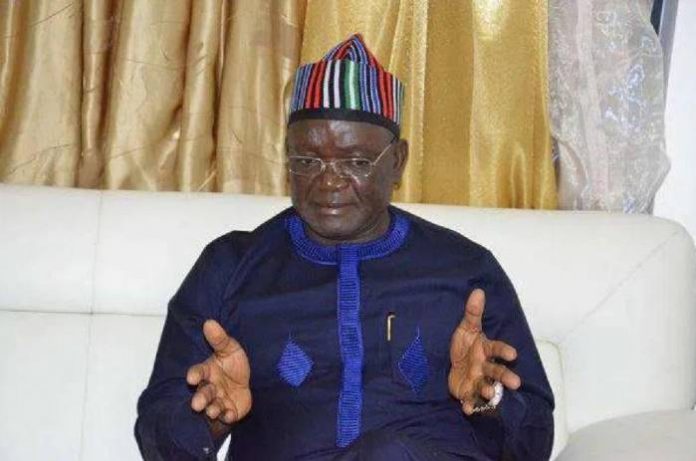 Benue State Governor Samuel Ortom has challenged former Governor of the State and Minister for Intergovermental Affairs, Sen. George Akume, to prove his achievements while he was in office.
Governor Ortom threw the challenge while swearing-in Terver Akase and Andrew Kputu as Special Advisers on Media/Publicity and Solid Minerals and Mining respectively at the Government House, Makurdi.
He said the time has come to show comparison between Akume's tenure in 1999 and his administration in area of project execution.
The Governor who also, reacted to a comment credited to the Minister wherein he issued a quit notice to the Governor and the Peoples' Democratic Party, PDP, in the State in 2023 at an APC Gubernatorial retreat in Abuja, advised the party to focus on settling their internal wranglings.
"I challenge Akume to place his projects side by side with mine and let's see who has excelled as governor.
READ ALSO: FG Mulls The Creation of New Ministry Of Defence — Perm Sec
"We, PDP, have an internal mechanism to select our candidate. We do not need to go to Abuja to hold retreat. Discussions are going on between G-14 and G-9 to reach a consensus but if no agreement is reached, we will go to the primaries. However, those who are aggrieved with the consensus aspirant can still participate in the primaries to test their popularity.
"APC has nothing to offer this State or country. The PDP will rescue and rebuild Nigeria because the APC has taken the country beneath the ground. They have brought bloodshed, hardship, unemployment rate has risen to close to 40 percent. APC should forget about peeping into what the PDP is doing and concentrate on solving the katakata in their party."
He congratulated Mr. Akase and Ukputu explaining that their appointment was based on needs to increase the number of those offering quality services delivery to the Benue people.
While urging the youth to always be prepared to take up responsibilities, Ortom also noted that their appointment was part of his administration's way of encouraging and empowering the youth.
Speaking on behalf of the appointees, Terver Akase thanked the Governor for honouring them pledging to help his administration achieve set goals.