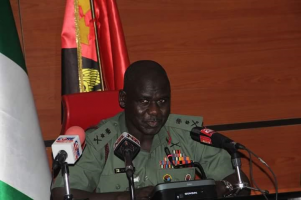 The Nigerian Army on Wednesday called for calm in Maiduguri after repelling the attack on Jidari Polo area, about 4 km from the Maiduguri GRA (Government Residential Area), by the terrorists group, Boko Haram.
The shootings in the area which were heard in the outskirts of the town in the evening resulted in panic around Damboa Road, Old G.R.A.
But in a statement issued by the Deputy Director, Army Public Relations Department, Lt.-Col. Kinsley Samuel, on Wednesday, the Army said the situation had been put under control.
"The situation in Maiduguri is under control. The public is requested not to panic but to stay calm".
It was reported that some members of the terrorists group stormed the Jidari Polo area of Maiduguri around 7.00 p.m.on Wednesday shooting.
Said to be one of the most critical attack in recent time, the military said it had however, repelled it.
It therefore urged residents of Maiduguri to remain calm.
Already, there is heavy military presence in the affected area.
No details have been given about the number of casualties.