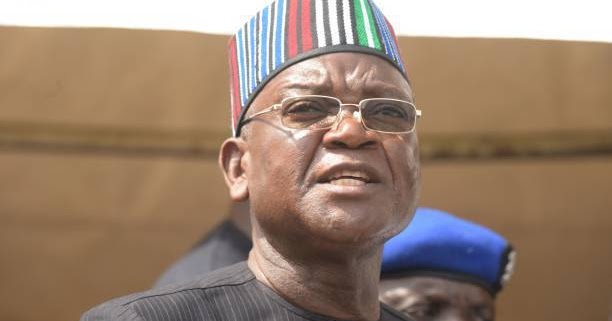 Benue State Government in conjunction with the World Bank has concluded plans to begin the enumeration of houses within the urban centers in the state.
Governor Samuel Ortom disclosed this on Monday at the unveiling of States Fiscal Transparency, Accountability and Sustainable Programme (SFTAS), World Bank Assisted  Project and Benue Geographic Information Service (BENGIS), sensitization exercise held in Makurdi.
Ortom said BENGIS is a tool for computerization of land records and land administration in Benue State while SFTAS is a component in BENGIS meant to enumerate all buildings, their owners and occupants in the state towards developing a robust database for planning and development.
He noted that the Ministry of Lands, Survey and Solid Minerals does not only deal with land administration, C of Os and such transactions but like in developed countries, they have since embraced the science and technology of database development and management as a tool for governance and proactive decision making in a timely manner which is key to fiscal transparency, accountability and sustainable development.
He said with the tool, government and indeed the people are able to know with ease, who lives where as well as other details of availability or unavailability of infrastructure and facilities available to the people of a given locality.
Governor Samuel Ortom said the rapid spread and complex nature of crime in society today, government needs among other measures, to take this proactive measure of taking proper inventory of buildings, their owners, occupants and other details.
Represented by his Chief of Staff, Mr. Terwase Orbunde, Governor Ortom noted that the information is another effective tool for crime fighting, investigation and crime prevention, stressing that if properly harnessed, the information can be used in the intelligence gathering units of law enforcement agencies to prevent crime in conformity with relevant laws so as to also safeguard the right to privacy of our people.
"A well-developed database of people, and their spatial distribution is also the tool that emergency mitigating agencies will need when addressing eventualities like fire outbreak, disease outbreak, flood, crime or even terrorist attack", the Governor said.
"The World Bank is to give us grants if this process is completed in record time. These grants can only be used to provide infrastructure for the Benue People. It is therefore a win-win arrangement which we cannot afford to overlook."
READ ALSO: FG Declares Wednesday, Thursday, As Public Holidays To Mark Eid-eI-Fitr Celebration
He therefore called on all stakeholders; Royal Fathers, Community Leaders, Market heads, Heads of security outfits and Government functionaries, to go back to their various environment and communities to sensitize their subjects about the project.
"You should mobilize your people to cooperate with our SFTAS enumerators who will come to you or your domain. Grant them access to your plots, or homes. Give them the details they would be demanding, whether the house has C of O. or not. If you have titles, show them the document, please. They will be in their uniforms with ID cards, so please, avail them with the necessary information for a successful exercise.
He also urged all landlords in urban areas especially Makurdi, Gboko and Otukpo, to come to the BENGIS office in the Ministry of Lands, Survey and Solid Minerals, and process statutory title documents.
"Those with old land titles should also come up for re-capture and upgrading of these titles to the modern digitize C of Os.
Ortom appreciated World Bank, the development partners and other stakeholders for their sustained partnership with Benue State and urged Benue people to give maximum cooperation to the SFTAS enumerators.
The Commissioner for Lands, Survey and Solid Minerals, Mr. Bernard Unenge had noted that the State government has injected over 300 million naira into the project while the World Bank is expected to bring in 2.5 million dollar.
He said the programme will capture at least 50 percent of properties within the three Urban cities of Makurdi, Gboko and Otukpo local government areas.
"The target is about 85,000 properties, but we are targeting 100,000 in case we have some errors, so we use what is left to make it up.
Unenge said government have so far trained about a hundred enumerators to ho into the field.