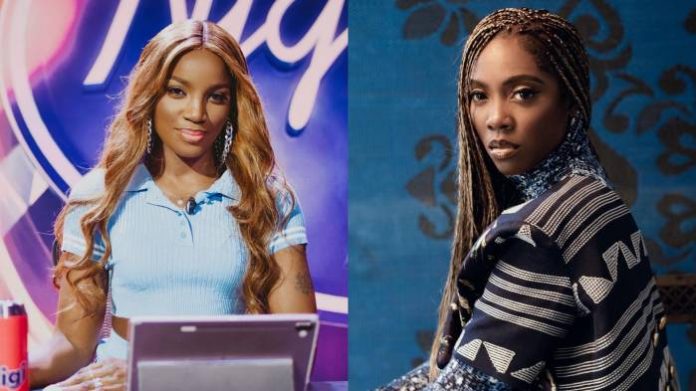 Nigerian celebrity female artistes, Tiwa Savage and Seyi Shay went at each other in a health and beauty salon in Lekki on Tuesday, June 8, 2021.
Pulse Nigeria was able to obtain an audio of Seyi Shay giving her own side of the tale.
A shocked Shay said the beef was not about the #FvckYouChallenge verse she recorded because they have met more than twice after that and even exchanged pleasantries with each other.
She claimed Tiwa did not give her metadata and rights to a song she co-wrote with another artiste and was surprised to see Tiwa and another artiste, Duncan Mighty singing the song on television.
The song in question was 'Lova Lova'.
READ ALSO: INVESTIGATION: How Poor Toilet Facilities Threaten Menstrual Health Of Students In A'Ibom Public Schools
She also accused Savage of threatening to sue a brand if she was not pulled from the ambassadorial role.
Seyi Shay was also upset that Tiwa cursed her by saying she would not have a child, and she has always wanted one even after suffering a miscarriage.
"I don't know if she is angry over her pregnancy rumour that has been making headlines for sometime now but she prayed I will not have a child in Yoruba language…
"she said to me, 'Seyi oni bimo, olorun oni fun e ni omo, mo mo pe o n wa omo (Seyi you will not have a child God will not give you a child. I know you have been looking for one) and it hurt me cos I have had a miscarriage and I know how much pain I felt when it happened, and then this curse."