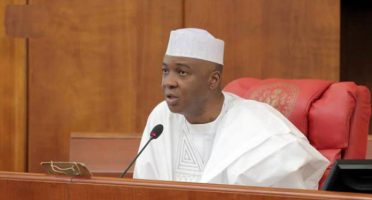 The Senate President, Bukola Saraki, has returned all the money paid to him as pension as former governor of Kwara State, to the government.
The Secretary to Kwara State Government (SSG), Alhaji Isiaka Gold, made this known on Wednesday in a press statement.
Although Gold stated that the Senate President stopped receiving pension since August 2015, he did not reveal how much was returned.
His words:  "Dr. Saraki requested that the payment of pension to his account be stopped and the amount already credited to the account be refunded to the Government, the State Government promptly complied.
Read also:  Court remands man in prison for alleged defilement of 2-year-old
"The Government not only stopped the payment of the said pension, the amount already paid into Dr Saraki's account since he left office was deducted from the money owed to him as well as his other outstanding lawful entitlements."
He pointed out that "It should be noted that neither the Kwara State Government nor Dr Bukola Saraki violated the state pension law or any other law for that matter.
"The State Pension Law empowers the State Government to pay pension to former Governors of the State."