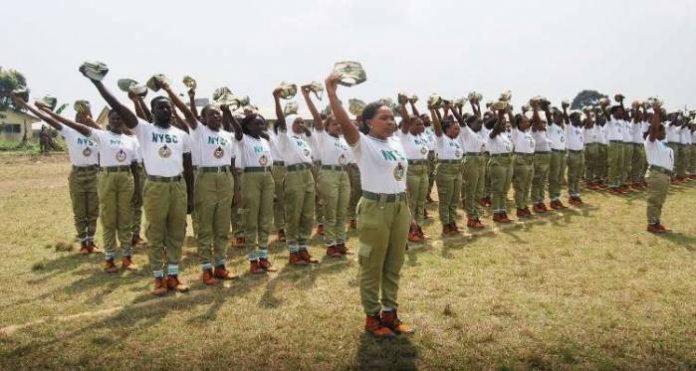 Over two thousand fresh National Youth Service Corps (NYSC) members on Thursday were sworn in for their one year mandatory national service in Lagos, with a charge by Governor Babajide Sanwo-Olu for them to make maximum use of the opportunity and lay strong foundation for their future growth.
The NYSC members, made up of 998 males and 1446 females, are those of the 2019 Batch 'C' Stream One, who started their orientation barely one week ago at the agency's temporary camp in Agege, Lagos.
Sanwo-Olu, who was represented by Dr. Yusuf Jimoh, Permanent Secretary, Ministry of Special Duties, urged the new NYSC members to network, make friends and develop relationships that would impact positively in their lives while in the camp.
The governor also urged them to adhere strictly to camp rules and regulations, which had been put in place for their safety and to guarantee their hitch-free orientation course, even as he enjoined them to put in their best and lay solid foundation for their service year through active participation in all camp activities.
Declaring the orientation open, Sanwo-Olu commended the state's NYSC Coordinator, Mr. Sunday Aroni, and his team for their efforts in ensuring smooth running of the exercise.
READ ALSO: Shun Illegal Travels, NYSC Lagos Coordinator Charges Corps Members
Earlier, Aroni maintained that since the orientation commenced, the new NYSC members had proved to be well behaved and disciplined, an indication of their resolve to diligently serve their fatherland in Lagos State.
Aroni said: "The activities are packaged for your mental, emotional, and physical development. I therefore encourage you to be actively involved in all camp activities for your present and future benefits.
"Discipline should be your watch word during the period of the orientation course and service year. Anyone who breaches the camp orientation guidelines will be made to face camp court," even as he indicated that they would be trained to become entrepreneurs and employees of labour.
Aroni also commended Sanwo-Olu for creating an enabling environment for the training of the corps members and continues assistance to the scheme, even as he had been giving attention to youth development matters.
"I wish to place on record that Mr. Governor is set to make history in Lagos by the demonstration of renewed commitment for the commencement of the construction of a befitting permanent orientation camp at Agbowa, which upon completion, will accommodate a larger number of corps members during the orientation course in Lagos State," he added.
Aroni also commended all camp officials and collaborating agencies for their contributions to the successes recorded by the scheme in Lagos State.