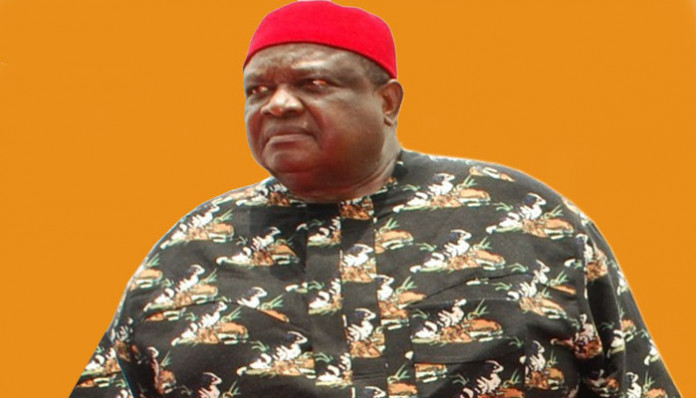 Chief Emmanuel Iwuanyanwu, the Chairman, Ohanaeze Council of Elders says limiting the zoning of the country's presidency to North and South is not in the interest of all Nigerians.
Iwuanyanwu made the assertion at a meeting organised to inaugurate the council's Finance and Development Committee on Sunday in Abuja,.
He said if the zoning principle must be observed, it should be across the country's six geo-political zones.
He said this would give every Nigerian opportunity to aspire for the presidency.
The 57-man committee of eminent Igbo business men, inaugurated by
Prof. George Obiozor, the President Ohanaeze Ndigbo Worldwide, was to proffer ways of financing and developing economic activities in Igbo land.
According to Iwuanyanwu, the South-East and North-Central especially, are not favoured to win the presidency going by the current North, South zoning arrangement.
"If you want to zone, we have six geo-political zones in the country, zone it along the geo-political zones. If you know you want to zone.
"You say you are zoning it to the North and South. If you zone the presidency to the North, there is no way somebody from North-Central will get it, unless there is a mutual cooperation from the North-West, which is very big.
"And if you zone it to the South, even if a zone in the South has been president several times, by this zoning arrangement, it doesn't stop them from contesting; which is not exactly what zoning is all about," he said.
He explained that zoning was to ensure fairness, equity and justice, and to see that the position "goes round", adding that limiting it to North and South was against the interest of other Nigerians.
While noting that the North had more Local Government Areas, Iwuanyanwu said eastern states had fewer.
"Political power is derived from the party and from delegates, and if you look at recent elections, we have fewer local government areas and for you to penetrate to get other places, you have to have money.
"We were not there when local governments were created, it was created by the military, now they say when it comes to South, the South should go and agree and this is not fair," he said.
Earlier, Obiozor, President Ohanaeze Ndigbo Worldwide, said the meeting was also to give effect to matters of immense importance and relevance to Nigerians of Igbo extraction.
He implored Nigerians of Igbo extraction to stop lamenting, adding that they should critically harness the potential and resources in the region to their advantage.
"We have all it takes to deliver succour, development and a better and sustainable society for millions of our people and indeed Nigeria.
READ ALSO: Why We Chose To Become Nigerians – Foreigners Conferred Nigerian Citizenship
"In this wise, our focus will be on economic activities that will engage our youths through employment opportunities and acquisition of skills.
"This should be in line with our known entrepreneurship models, harnessing of potential in the agriculture value chain through processing, Small and Medium Enterprises (SMEs) which are the comer stones of Aslan economics.
"I am conscious of the fact that the tasks we have set for ourselves will not be easy to achieve, but I am happy in the knowledge that they are doable and that we are on the right historical path," Obiozor said.
He said that the meeting demonstrated the determined efforts of Nigerians of Igbo extraction to tell their stories in a more positive light.
He said membership of the newly inagurated committee would be expanded as the need arose to enrich its ideas and mode of operation.
He said other committees would also be established to handle critical sectors that impacted on the people generally.
He commended Iwuanyanwu for his sterling contributions towards the growth of Ohanaeze Nidigbo Worldwide as a body and the Igbo nation, and Nigerians in all segments of human endeavour.
He also thanked ail those who worked closely with Iwuanyanwu to ensure the success that had been achieved.
The News Agency of Nigeria (NAN) reports that members of the committee include: Amb. Okey Emuche, (Secretary), Prof. Charles Nwaekeaku, Sen. Orji Uzo Kalu, Chief Chukwuemeka Ezife, Sen. Chief Chris Ngige, Chief Jim Nwobodo and Dr Okweslieze Nwodo.
Others are Chimaroke Nnamani, Dr Obiora Okonkwo, Sen. Ike Ekweremadu, Chief Ogbonna Onu, Chief Martin Elechi, Sen. Sam Egwu, Sen. Pius Anyim, Chief Achike Udenwa, Chief Ikedi Ohakim, Dr Peter Odili, Chief Chibuike Amaechi and Chief Celestine Omehia.
Chief Ned Nwoko, Dr Ngozi Okonjo Iwuala, Tony Elumelu, Sen. Ken Nnamani, Prof. Barth Nnaji, Sen. Joy Emodi, Chief Mrs Stella Okoli, Nze Ozichukwu Chukwu, Prof. Maurice iwu are also members of the committee among others. (NAN)