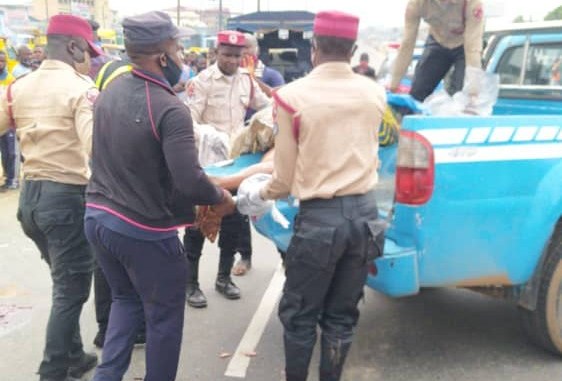 The Federal Road Safety Corps (FRSC), Adamawa command, says it recorded no fewer than 101 deaths as the result of road crashes between January and November 15, 2022.
Mr. Yelwa Dio, Sector Commander FRSC Adamawa, disclose this during a sensitization visit to motor Parks in commemoration of Africa road safety day and world day of remembrance of road traffic victims in Yola on Wednesday.
He said during the period under review, over 491 person sustained injuries.
Dio called on drivers to always abide by traffic rules and regulations for their safety and that of their passengers as well as other road users.
READ ALSO: Police, Vigilante Shoot Robbers Sharing Loot, Arrest One, Recover Guns
"From January to September ending in Adamawa, we have a record of over 491 persons that were injured and those who lost their lives were about 91.
"And in October and November which we did not add, we recorded more than 10 deaths as the result of a partial accident in Girei.
"These things can not continue. We need to sensitize drivers, passengers and other road users," he said.
According to him, more than 60 per cent of the road crashes are as the results of human factors.
He advised drivers to avoid over-loading, over-speeding and dangerous driving to remain safe and alive for taking good care of their families.
Dio said during the period of Ember Months, there would be a high volume of vehicle movement, some travel for Christmas, new year and some will be transporting farm produce from one place to another.
Malam Umar Kaka, Chairman, National Union of Road Transport Workers (NURTW), Dobeli Branch, appreciated the FRSC for their sensitization programme and called on the people for more understanding.
Kaka, represented by Mr. Hamid Abdulhamid, said that the union is also doing its best on sensitizing members to abide by the traffic rules and regulations. (NAN)