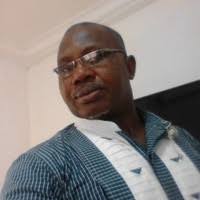 Green Eagles keeper, Inua Lawal Rigogo went wild and elbowed the referee for awarding a dubious goal to hosts, Hawks of Togo in Lome. When the dazed man in black came to, he quickly sent out Kenneth Olayombo, the Nigerian wearing jersey number 8.
It happened in 1966 in what was Olayombo's debut for the Eagles. Scores stood at 2-1 in favour of the visitors before the controversial goal. CAF did not waste time in slamming a three- year ban on the Nigerian striker.
Olayombo told me the story in a chat recently. It was like being punished for the sins of another.
He said : "It was on the way to the Mexico '68 Olympic Games. The referee awarded a dubious goal to Togo, with scores standing at 2-1 in our favour. Our goalie, Rigogo, couldn't take it. He rushed to the referee and elbowed him. I went to complain too".
The dazed referee might have lost his senses. When he recovered he descended on the Nigerian debutant.
"I was shocked when the referee sent me out. He said it was No.8, that's me, that hit him. To make matters worse CAF banned me for three years. You can imagine being punished for an offence you did not commit.
"However, sanity prevailed. Our team manager, Peter Osugo (Pecos) assured me that Nigeria would take up the case. Good news came when the ban was reduced to three months. I was an up and coming player, the ban really jolted me," Olayombo added.
At that time he was playing for Lagos Railway and had the backing of General Manager of the Nigerian Railway Corporation, Ikejiani who dubbed the star, ' My Pele'.
The Green Eagles qualified for the Olympics, Olayombo distinguished himself as the first Nigerian to score a brace in a global championship. And those two goals came against almighty Brazil.
Rigogo did not make the team to Mexico '68. Apparently, the technical crew could not tolerate him even when the goalie was in splendid form.  Yakubu Ibrahim, also known as Yakubu Bauchi was drafted as replacement. Peter Fregene manned the posts.
Rigogo was so spectacular that in 1964, Ghanaian leader, Kwame Nkrumah nicknamed him 'Flying Cat'. The Osagyefo patted the keeper on the back. He also gave special attention to school boy international, Johnny Egbuonu.
Rigogo and Olayombo later played  together at Army team, Lagos Garrison Organisation (LGO). One of their team mates, Paul ' Wonder Boy' Hamilton was also at Mexico '68.
Football was not fair to Rigogo. I met him in Kaduna in 1989. He was a sorry sight but cracked jokes with Chris Udemezue in Hausa. One player who got completely turned off by Rigogo was Paul Okoku. He was shocked to see a man who made name for self and country living like a destitute.
Olayombo's career continued to rise. He won gold with the Green Eagles at the Lagos '73 All Africa Games. Bronze came at the Ethiopia '76 African Nations Cup. The striker hung his boots after the competition.
Olayombo also captained the national team for two years, between March 1973 and 1975. He handed over the captain's band to Christian Chukwu.
"I was supposed to wear the captain's band in 1972. Tony Igwe and I were the most senior since Godwin Achebe was a non playing captain. The lot fell on Victor Oduah simply because he was captain of Benin Vipers that won the Challenge Cup. There was all the razzmatazz of champion.
"Unfortunately, Oduah had groin injury and the skipper's band came to me. In 1975, Rangers were the happening team. Double Champions for the second time and continental hopeful. Chukwu became captain. The coaches wanted Aloy Atuegbu, he came to me, saying he was too small."
Olayombo started at St. Michael's Primary School, Aba. He also attended Ngwa High School. His elder brother, Burniston, played for Aba Giant Killers and Nigeria. The Olayombos are the first brothers to  feature for Nigeria at the African Nations Cup.
One of Ken Olayombo's mates at  St. Michael's Aba, Chike Ndefo described him as a very good dribbler.
READ ALSO: FG Says Some Vaccines Donated To Nigeria Have Short Shelf Lives
"We attended St. Michael's Primary School together in the 1950s. Ken was a very good dribbler. There was a general field between Market Road and Azikiwe Road. That's where all of us grew up and played children's football together. I remember the Mgbemenas, the Onwubuyas,  Chikwendus, the Ndefos( my elder brother and I)," Ndefo said.
Ndefo also played soccer and had cause to tackle his friend at the First National Sports Festival in 1973.
"I played for Rivers while Olayombo played for Lagos State. Rivers defeated Lagos 1-0 to win the bronze medal. I had as team mates stars like Jossy Dombraye, Morton Owolo and centre forward, Sidney Ugorji, a poacher of a striker."
Ndefo was at Enugu Rangers briefly before higher education took him to the University of Ibadan in 1974. A farewell party was organised for the trio of Dominic Ezeani who relocated to the US, Patrick Ekeji, bound for the University of Nigeria Nsukka (UNN) and Ndefo.
Olayombo was at WAAC, ECN, Railway, LGO, and also played for the Armed Forces at the France '74 World Military Games and in the same competition in Damascus, Syria, 1978.
He trained at the University of Budapest, Hungary as a coach, with Okey Emordi who would later assist him at ACB, Lagos. Olayombo was at different times coach of  P and T Lagos, Obanta, ACB, Udoji and Sunshine.
He is not just happy with the Nigerian Premier League.
"Go to the stadium. It is just like a burial ground. The players, I don't even know their names. I don't blame them though. Some are owed salary for six months. By this time, we should have been the best in Africa. I wish them all the best."