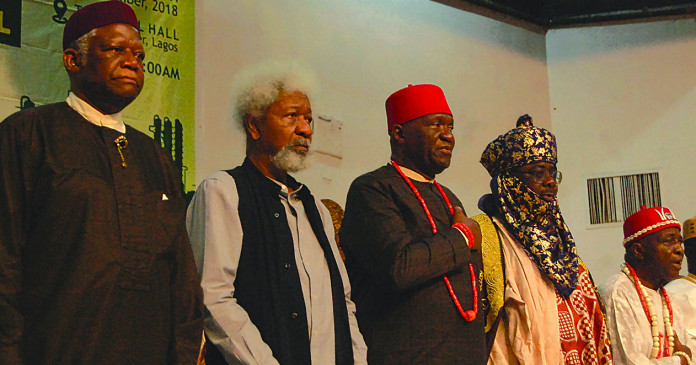 President General of the apex Igbo socio-cultural organisation, Ohanaeze Ndigbo, Nnia Nwodo, and a chieftain of Afenifere, Ayo Adebanjo, have said Nigeria must be restructured now or never.
Both spoke at the first ever Handshake Across Nigeria summit, with the theme: "Nigeria beyond oil," organised by Nzuko Umunna in partnership with The Core Federalists, held in Lagos on Monday.
According to Nwodo there must be legislative independence and sovereignty of mineral and oil resources to the federating units, if Nigeria beyond oil must work.
He said those campaigning against restructuring of Nigeria have painted an unfortunate and untrue picture.
He words: "The new model we propose for Nigeria recognises that revenue in the world, today, is promoted by two main sources namely, human capital development leveraging on technology to drive the critical sectors of the economy and agriculture. Nigeria beyond oil must contemplate the implementation of legislative independence to the federating units, sovereignty of mineral and oil resources to the federating units, a painstaking resolve to support all electoral processes and candidates that would bring about this change."
On his own part, Adebanjo, who noted that if the country failed to restructure, it would break up, lamented the fact that both Buhari and Osinbajo have no understanding of what restructuring meant.
He said: "It is unfortunate that President Muhammadu Buhari and Vice President, Yemi Osinbajo, do not understand each other as regards restructuring. I can understand the president's predicament because education is necessary to comprehend what restructuring entails but, I do not know why the vice president, who is a professor of Law, does not know what it entails.
"How can the vice president say he wants devolution of powers, state police and the likes, yet, he says he does not understand what those who talk about restructuring want? If the man who is the president does not understand what restructuring is, because of his education deficiency, should the vice president not also know what it is?
He argued that if the unity of the country was non-negotiable, then, there was no than to restructure.
Delivering the keynote speech, Nobel Laureate, Prof. Wole Soyinka, also lent his voice to the call to restructure the country.
Lamenting the level of insecurity and killings in the country, he said: "One way of stopping the bloodbath is to reconfigure the nation. States must be given maximum control over their resources. There are some who prefer to grow rice, there are others who prefer to grow religion and we know where religion has taken us, today.
"Some people will like to say it is not really religion that has gotten us to where we are. I agree with you, but, some people have manipulated religion to suit their purpose.
"Those insisting on restructuring do so because they know that there is something wrong with the state of Nigeria. Many times, Nigerians have come together to proffer solutions and the way forward for the country, but, after spending so much time and effort, nothing ever comes out of it. The recommendations are left to gather dust. How much longer shall we continue like this?"
Soyinka also picked on the administration's failure to obey court orders particularly on the cases involving Shi'ite leader, Ibrahim El-Zakzakky and erstwhile National Security Adviser, NSA, Col. Sambo Dasuki (rtd), describing it as a national embarrassment.
"Forgiveness is a virtue. Although, I have the same temperament with my late friend, Tai Solarin, but it is a national embarrassment that our President has refused to obey laws. Citizens should not be the one to choose the laws to obey," he said.
READ ALSO: Girls education, catalyst for lifting people out of poverty – Graça Machel
On the security challenges facing the country, the Nobel Laureate said: "We want government to understand that they are part of the community and have been given a mission of carrying out the will of the people… Insecurity has reached a certain level that even when we bring experts in, they wonder what exactly they have come to do. They are given a certain problem to solve and when they arrive here, they meet another problem.
"We have had many instances of armed killer herdsmen who wreak havoc across communities in the country and, rather than show empathy to the victims, the Inspector General of Police goes there to say they were killed because they blocked the grazing routes for cattle."
Director General of the Northern Elders Forum (NEF), Yima Sen, who represented the convener, Prof. Ango Abdullahi, would tread with caution on the issue of restructuring.
His words: "As a group, NEF met several times with northern governors and northern traditional rulers over the issue of restructuring and discussions are still ongoing. But, one thing we have decided is that we are going to dialogue with our people and know what they want.
"Most often, the elite push an agenda because they think that is what those they are leading want and they usually do it out of pride and arrogance.
"We should be humble when pushing an agenda. We need to move from the level of sentiments to the scientific. It is important that, when such important issues are discussed, the elite should be humble enough to ask their people what they want and that is what we are doing."
Chairman on the occasion, General Ike Nwachukwu, while conceding that the unity of the nation was sacrosanct and non-negotiable, said the country would not maximise its full potentials if it did not return to federating units.
"Although they were appointed by the government, they are responsible to the people of Nigeria.
To make INEC truly independent, there is the need to review the system of appointing its members."