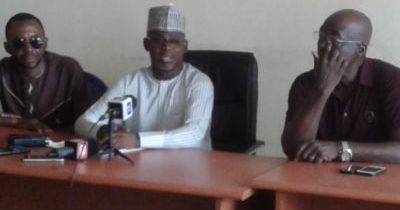 The Peoples Democratic Party, PDP, in Benue state said it has petitioned the Inspector General of Police. IGP Mohammed Adamu to call Sen. George Akume to order over his acts and utterances aimed at undermining the peaceful conduct of the March 23 supplementary elections in the state.
Benue State Chairman of the PDP, Mr. John Ngbede, stated this on Monday, while addressing journalists at the party secretariat in Makurdi.
Ngbede told journalists that Senator George Akume, leader of APC in Benue State, had boasted at several meetings he has held with the party's members and stalwarts that the result of the Supplementary election will be declared in favour of his party's candidate, Emmanuel Jime, whether he wins it or not.
Ngbede said Akume had also assured his followers that "such brazen rape of democracy" would be made possible through collaboration with Independent National Electoral Commission, INEC, and the Mobile Police men and other security agents that would be deployed to help thugs and militia to hijack election materials for the supplementary elections just as he said thumb-printed ballots would then be returned and announced as the results giving victory to Emmanule Jime.
According to the state PDP chairman, Akume particularly assured his followers that the National leadership of APC with the backing of the Presidency has already infiltrated INEC and Emmanuel Jime would be announced as Governor of the state without the supplementary governorship election holding, and that this would be achieved through already doctored results which would be compiled by INEC Returning Officers and staff who are already being posted to the affected polling units.
Ngbede insisted that the above issues and undemocratic utterances by Akume and APC leaders in Benue State clearly constituted a major threat to free and fair elections and therefore ought to be urgently addressed.
"It is in this regard that we call on the Presidency, the Inspector General of Police, the State Security Services, as well as the relevant agencies to use their good offices and act with utmost sense of duty and dispatch to call Senator Akume and other leaders of the APC in Benue State to order in the best interest of peace and security as well as the preservation of democracy.
He noted that in taking necessary action on the matter, the Presidency and all those mentioned will be upholding the good name and image of their reputable organizations which Senator Akume, by his unguarded utterances and reckless conduct is on the brink of bringing to disrepute.
He also noted with regret that George Akume's utterances had emboldened both media handlers including the Acting State Publicity Secretary of the party, Mr. James Ornguga, and their supporters who are airing it all over that the result of the March 23 supplementary election is readily available in favour of Emmanuel Jime, regardless of whether Governor Samuel Ortom of the PDP wins by another landslide as he did in the first round of the Governorship election.
The Party recalled that at the Presidential and National Assembly elections held in Benue State on February 23, 2019, PDP won by a margin of over 10,000 votes, and also won all the three Senatorial seats, as well as six out of the nine House of Representatives seats so far declared out of 11 in the State, while APC won only one House of Representatives seat.
Ngbede also said Governor Ortom of the PDP was in a clear lead with 410,576 over his closest rival Emmanuel Jime of the APC who scored 329,022 votes, before INEC declared the Governorship and State Assembly elections inconclusive and later ordered a supplementary election, the one to be held on March 23. Governor Ortom led Jime with a margin of 81,554 votes.
Also, out of 30 State Assembly seats, PDP won 17 out of 21 so far declared, while APC on the other hand has won four State Assembly seats.
The chairman noted that with such overwhelming victory, "the APC is therefore not in any position to win the scheduled supplementary election of March 23 and utterances by Senator George Akume and the party's leaders that Emmnauel Jime will be returned as Governor of Benue State at that election are only capable of breaching the peace and order in the state leading into the election.
READ ALSO: Pressure on INEC to declare Tambuwal Sokoto Governor-elect
The party further demanded the Presidency and heads of those security agencies that Senator Akume has been dropping their names as working with him and APC to overturn the result of the coming March 23 election rerun in favour of his party, to call him to order to make it clear that they are not into such an unholy alliance with him.
He stated that Benue State has had enough of deaths and crisis and so desires to avoid a repeat of crisis at the coming Supplementary Election.
'"We restate the commitment of the entire leadership and members of PDP in Benue State to hitch-free elections, yet it must be noted that while we, in the first and second rounds of elections, maintained peace and did conduct ourselves as such, the APC on the other hand were bent on perpetrating violence.
"The result was that hoodlums loyal to APC attacked and killed two PDP members in Gbajimba, Guma local government area, on 23rd March, and on the same day they also attacked and killed three PDP members in Gwer-East.
"Benue people deserve to be free to elect leaders of their choice and this can only happen in a credible and fair contest."
The party urged all stakeholders, especially the security agencies, to discharge your duties with due sense of patriotism and professionalism to ensure that APC or any other political party did not succeed in disenfranchising eligible voters of Benue state during the supplementary election.