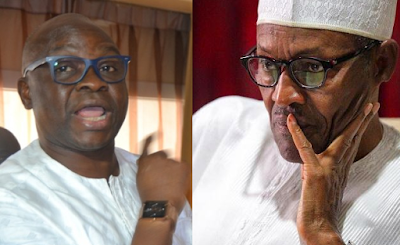 Former governor of Ekiti State, Ayodele Fayose, currently in prison custody, for alleged financial crimes, has written to the Chief of Defence staff, to release President Muhammadu Buhari's WAEC certificate to INEC for screening.
Recall that INEC on Thursday began the screening of credentials submitted by candidates for 2019 elections.
While the other candidates presented their certificates as proof of their academic qualifications, Buhari presented an affidavit directing INEC to the military claiming they are in possession of his credentials. He had made the same claim in 2014.
In a statement by his media aide, Olayinka Lere, Fayose therefore called on the CDS to release Buhari's certificates to avoid his being disqualified from the Presidential race.
The statement reads: "I write as a concerned citizen of Nigeria to request that you use your good offices to effect the immediate release of academic credentials of Major General Muhammadu Buhari (rtd) to INEC.
"Major General Muhammadu Buhari (rtd) is the presidential candidate of the APC in the 2019 general election and he is in urgent need of the credentials to support his nomination as provided by the 1999 Constitution of the Federal Republic of Nigeria (as amended).
"I wish to remind you that in 2015, the said Major General Muhammadu Buhari (rtd) could not present his credentials because the then PDP government of Dr. Goodluck Jonathan allegedly prevented the Military from releasing the credentials.
READ ALSO: Foreign Titbits: Mail bombs: FBI investigators check Florida leads
"The CDS sir, you should be reminded that the said Major General Muhammadu Buhari (rtd) is the President and Commander-In-Chief of the Armed Forces, and he could have just used his powers to compel the military authority to use a Fighter Jet to fly the credentials to INEC.
"Kindly treat this request as urgent because the said Major General Muhammadu Buhari (rtd) on whose behalf I make this request risks disqualification by INEC if he fails to submit the credentials as demanded by the law.
"You may not need to provide all the credentials, however, just release the Primary Six and Secondary School Certificates.
"Thank you in anticipation of your prompt and favourable consideration of this request."