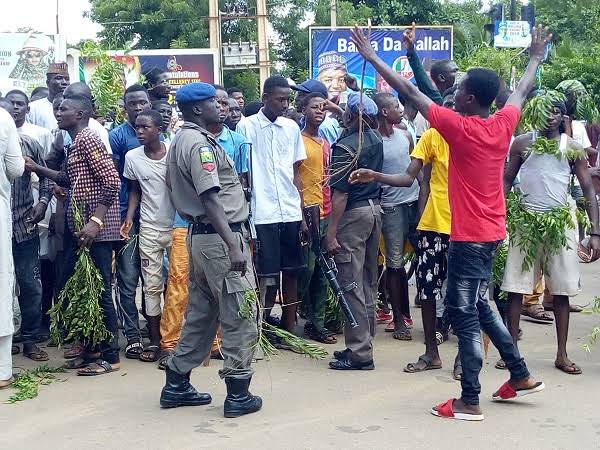 A serious protest erupted in Biogbolo axis of Yenagoa, Bayelsa State capital, on Saturday, over the death of the suspected mastermind of the September 21 attack on the patrol team of the Nigeria Police Force in the area.
The suspect, Goodluck Oviekeme, was arrested on Wednesday but the police announced his death on Friday.
On Saturday, angry youths from Epie-Attisa clan barricaded roads in Biogbolo axis of the state capital, accusing the police of killing innocent youth from the area.
According to them, Oviekeme, a 27-year-old man, was arrested alongside eight others over the attack on a policeman and theft of his service rifle.
In a statement, the police had alleged that the deceased was arrested in connection with a robbery incident in which one Inspector Ugbotor Sunday was injured.
It was gathered that the deceased was arrested alongside the Youth President of the troubled Biogbolo Community.
READ ALSO: Collection Of VAT By FIRS Remains – FG
But the brother to the deceased, Ebitonye Micheal, who denied the police allegations, insisted on his brother's innocence.
According to him, men of the Police special squad arrested Oviekeme on Wednesday over a crime he did not commit.
He alleged that Oviekeme was murdered in the police cell and his body was later dumped at the Federal Medical Center (FMC), Yenagoa.
The protesters, who are made up of Epie-attisa indigenes resident in Biogbolo, accused police of alleged shoddy investigation and deliberate killing of their kinsman.
Daily Trust