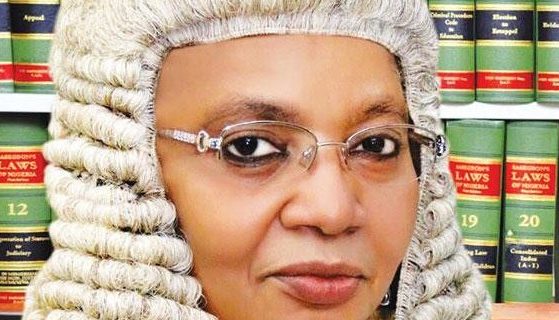 President of the Court of Appeal, Justice Zainab Bulkachuwa, has finally bowed to pressure, recusing herself as Chairman of the Presidential Election Petitions Tribunal.
Recall that the Peoples Democratic Party, PDP, and its presidential candidate in the February 23 presidential election, Atiku Abubakar, who are challenging the declaration of President Muhammadu Buhari winner of the election, had raised a likelihood of bias against her.
The party had argued that being the wife and mother of card carrying members of the All Progressives Congress, APC, she was likely to be biased against them.
After taking arguments on PDP's objection to her presiding over the tribunal earlier on Wednesday, the panel rose for a ruling on the matter.
When the panel reconvened, four members of the panel dismissed PDP's application, saying it lacked merit.
Delivering the lead ruling on the application, Justice Peter Ige, said the party had not presented enough materials before the court to show that Justice Bulkachuwa would be biased in the hearing and the decisions on the petition.
READ ALSO: Security Allegations: Apologize to Nigerians, PDP Tells Lai Mohammed
He held that the fact that she was married to a Senator-elect who along with her son are in the APC will not make any room for bias in the case.
Justice Ige, in conclusion said that the petitioners have not satisfied the requirements for the president of the tribunal to recuse herself and dismissed the application.
Though Justice Bulkachuwa agreed with the lead judgment, she however, informed the Tribunal that said she was stepping aside on moral grounds.
She said that she had wanted the matter to be heard by the full court so that no other female judge will face the same thing she faced in future.