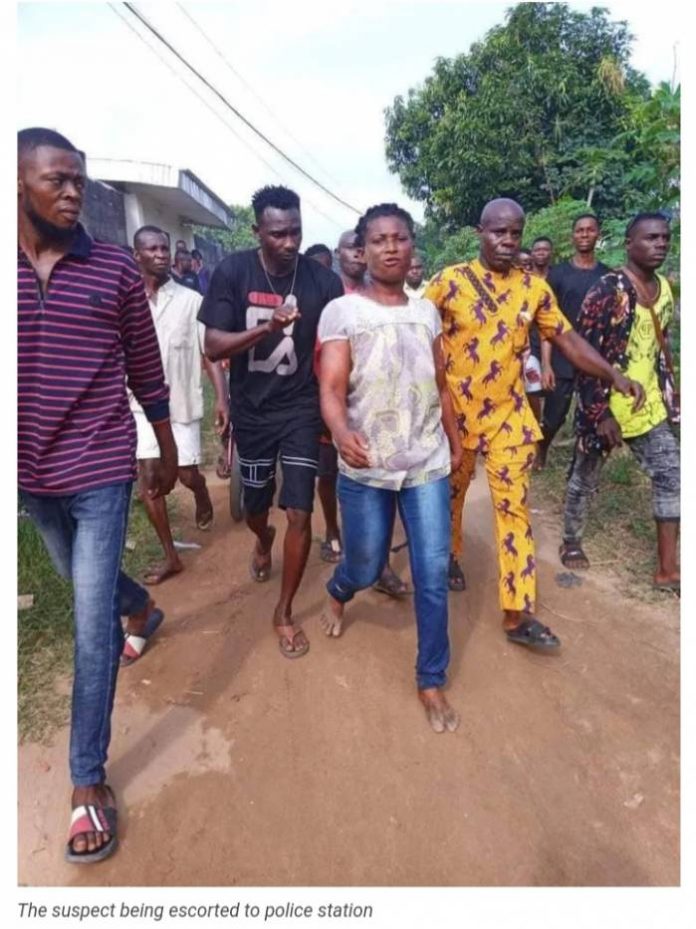 The Police in Akwa Ibom have arrested a middle aged woman who allegedly butchered her mother and dismembered the corpse.
The sad incident happened at Ikot Ekpene Local Government Area of the State.
Mary Imewe allegedly murdered her mother, Eka Ime, on Friday, November 27.
Before the arrival of policemen, some elders in Umoh Obot Road off Nto Akpan Inyang Street community, the scene of the bizarre incident, compelled Mary to pack her mother's body parts into a bowl and walk round the community carrying the bowl on her head.
Thereafter, the suspect was tied and bundled into the waiting police van with the bowl of sliced human parts beside her.
READ ALSO: #EndSARS: We Sold Burnt Skulls Of Two Policemen For N500 Each – Suspects
Straightnews quoted an eyewitness as saying that when the police came to arrest her, the suspect also known as 'Mummy' reportedly told them to take her away as she did not care.
"She said it herself that she don't care. Elders of the community made sure she carried her dead mother's body on her head which she butchered into pieces," the paper reported the eyewitness as saying.
Akwa Ibom Police Public Relations Officer, SP Odiko Macdon, who confirmed the incident on Saturday, said the suspect was in custody and investigations ongoing in the case.
Macdon said no right minded individual would slaughter her own mother in such a gruesome manner, noting that the police would have to get medical personnel to certify the suspect's state of mind before she is charged to court.
"That story is true. She butchered her mum. We are suspecting that she is not of sound mind but we do not have any medical capacity to say so. Medical personnel will have to determine if she is of sound mind or not. If not, which right minded, thinking individual will kill her own mom by butchering her?" he stated.
"As I speak, we have her in custody. We have gathered the corpse of the mom and deposited it in the mortuary. By the time we ascertain her state of mind, we will charge her accordingly. We have conducted preliminary investigations and more discreet investigations is on the way and she will be charged to court immediately after that," he added.