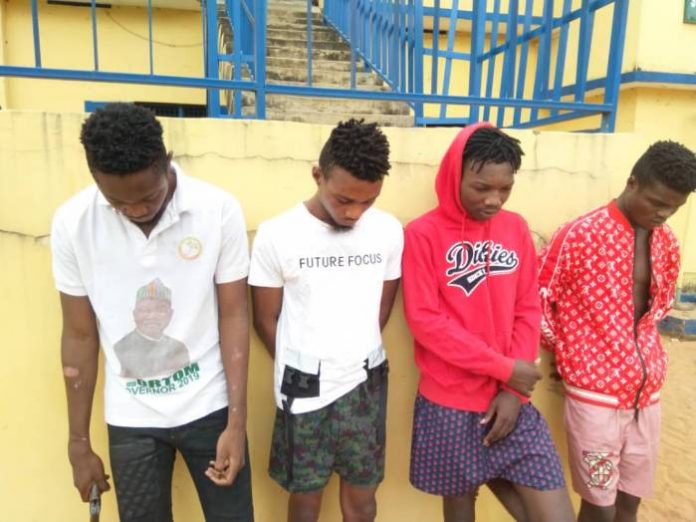 In the wake of horrendous killings in the past one month in Benue, the police has arrested 16 persons suspected to be cultists.
The Police Public Relations Officer, PPRO, Catherine Anene stated this at the  Police Command headquaters in Makurdi.
Parading the suspects before newsmen, Anene said 12 out of the 16 suspects were arrested in a bus on their way to Adaka, near Naka road to bury one of their own, suspected to have been killed by a rival cult group.
According to her, the other four suspects were arrested at their hideout after Police raided the house following a tip off from members of the public and a pistol was recovered from them.
During an interview, the leader of the 12 suspected cultists, Cephas Tersoo, confessed to being a member of a cult group named Red skin but claimed he has long denounced membership of the group.
He said they were on their way to bury their brother when they were arrested, alleging that the father of the deceased had called on them to fetch the remains of his son and proceed to bury him in a distant village from Makurdi called Adaka.
Meanwhile, some of the suspects stated  that they were arrested on a bike but were not cult members.
READ ALSO: OPWS arrests 40 cultists in Benue, recover weapons
Daniel Odu, a 300 level student of the Benue State University who was arrested alongside three others in his hideout and a pistol recovered under his bed, owned up to being a member of Red Skin Cult, stating that the three others were his friends from Abuja who had come to visit him and not cultists.
One of the three other suspects who spoke to newsmen, Tope Jacob, said he is a stylist and never a cultists, but was just a victim roped in since a gun was found inside his friend's house.
The PPRO, DSP Catherine Anene, stated  that the suspects were arrested following intelligence as the police have been on the trail of some cult members  in town who have been killing each other in the last one month.
Anene said the police commissioner had deployed operatives to go after the cultists in their hideouts leading to the arrest of the 16 suspects.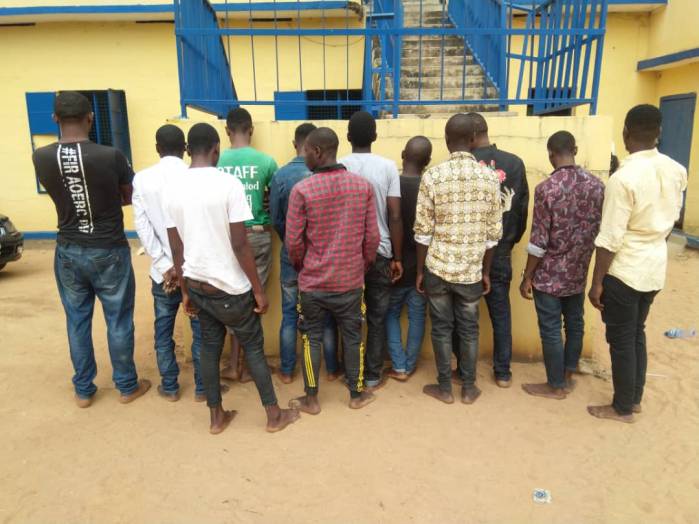 She however said the difficulty in tracing some of them is that they invite other cult members, who come, hit and run, making arrest pretty difficult.
"With this arrest as soon as investigation is over, they will be charged to court".
She however cautioned parents and guardians to always prevail on their children and wards to desist from this act just as she called on traditional and religious leaders to continue speaking to the youth.