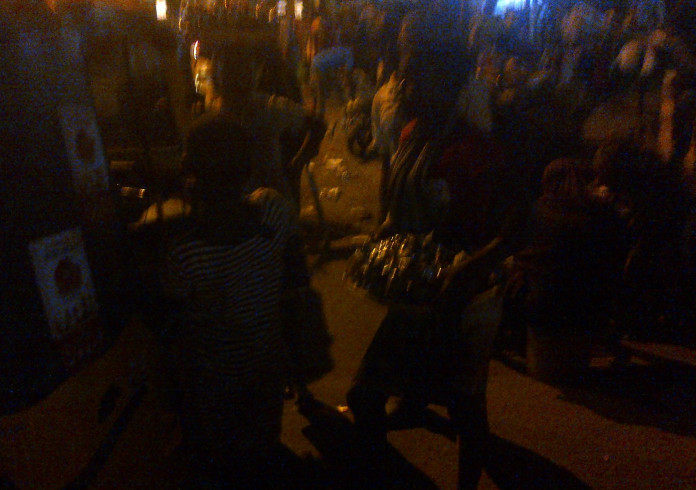 Many children are usually in the comfort of their homes when night falls. For some of those who hawk on the streets of Lagos and other big cities in Nigeria to eke a living, it is not the case as they are seen desperately trying to sell their goods. To them, the street is home at all times.
The street isn't a safe place for children who hawk groundnuts and other things from morning till evening all in a bid to survive. With the spate of kidnappings and child molestation, parents or guardians shouldn't subject their children to risks of being kidnapped or sexually harassed.
Unfortunately, children who are meant to be in school are seen hawking things like groundnuts, oranges and walnut from one part of Lagos to another. It is the same thing in other big cities of Nigeria.
Staying out late is not without its risks, especially for the girl child who is the most vulnerable on the streets. There are cases of rape almost every day in many parts of the country. Unfortunately, these children who are ready to damn the risks sell whatever they are hawking even at night.
Why are they so dogged? What is it that makes them try to sell everything without having left over for the next day? Why are they so bent on selling everything even if it costs them their lives.
Reportedly, some of them are said to be sexually harassed on a regular basis by pedophiles all in the name of buying off whatever they may be selling.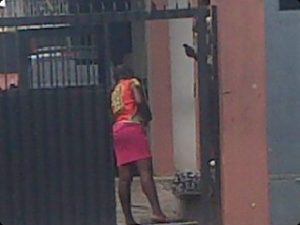 According to our findings, many of them are not children to some of the owners of the things they sell. These children are usually from remote places that come to Lagos after their parents were promised that they would get a better life in Lagos via quality education. Not knowing that when they get to the city, the reverse will be the case.
Some of the girls interviewed gave various reasons why they are outside even when it gets dark. Amaka who is 14 years old says she has to sell all her groundnuts or else her madam will scold her.
"My madam will be angry with me if I go back home with any of the groundnuts that is why I am outside by this time." She told The Next Edition.

Amaka's friend, who pleaded for anonymity while sharing the same view said, "That is the same reason why I am still outside. I have to finish selling my walnuts or at least let it remain like one or two before I can go home."
The most touching of all is the story of a groundnut seller who simply gave her name as Blessing. She is only 12 years old. Blessing was at Awolowo way, Ikeja, Lagos, by 9 p.m; trying to board a bus to Ogba.
Blessing who could easily pass for an eight year old said she was 12 years old. Her fragile looks could be as a result of malnourishment and lack of proper rest.
Blessing was very open about her situation, but wasn't relaxed as she was looking for a fellow groundnut seller whom she gave something to keep for her.
When asked what she was still doing out by that time, she said, "I just finished selling groundnut. I am going home now. I live at Ogba."
Blessing spoke in good English, which was an indication that she used to attend a school. When she was asked about her education, she had a sad look on her face. "I am not in school, but I want to go back to school," she said with a mild smile playing around her face.

The 12 year old girl explained that she is staying with her Aunt who usually sends her out to sell groundnut. "I am not with my mother. I stay with my Aunty," she said.
When asked further questions, she refused to answer as she was desperately looking for her friend.
The Next Edition found out that the roadside mechanics, motor park touts and security men of companies are the major customers of the female street hawkers. Some of these men also take undue advantage of the desperation of the girls to sell off their items by harassing them sexually.
They are well aware that without selling their goods to them they would find it difficult to face their guardians.
A mechanic called Rahmon Shittu spoke about how some of these girls dress skimpy wear in a bid to entice customers. He said, "I agree that some men are irresponsible and try to take advantage of these kids. These kids aren't without their own faults. For example, their mode of dressing is provocative. Why should they be wearing short dresses? Are they really selling groundnuts or something else? Some of them have become corrupt. They even wink at you when you are trying to patronise them. I blame the guardians of these children who would allow them dress like that and go about with oranges on their head."

A groundnut hawker who gave her name as Chinelo disagreed with Shittu, saying not all of them dress that way intentionally, "I have only one skirt and this is it. I wear this every day. I am not allowed to buy any other clothe apart from this one. I have been wearing this for two years that is why it is very short. The day my madam sees me with another dress; I will be in hot soup. She will beat me very well. All of us go through the same thing. That is why some of them have boyfriends who will help them buy what they are selling," she said.

Asked if she has a boyfriend, she said, "No I don't. But the problem is that they see all of us the same way. Sometimes when men call me to by walnut from me, they will touch my buttocks. I usually shout at them but they will just laugh. That is why when they call me to sell for them in their compound, I tell them to come out instead."

The distance they cover in a bid to sell all they have is amazing. For instance, some of them walk from Agege to Ikeja carrying whatever they are selling on the heads. "I walk from Agege to Ikeja everyday. Then I walk back after I have sold everything," Happiness John explained to The

Next Edition

, adding "Mine is even a small thing compared to how far some other sellers walk."

The

Next Edition

also learnt that while some of the hawkers get paid paltry sum of money, some others don't get paid at all. Happiness further explained that, "I don't get transport money. I walk from home to Ikeja and back. But I get food money. My madam gives me N200 to eat. I have a place to sleep and I am fine. Even if I don't get paid at least I eat well when I get home. I only hawk Monday to Friday. I rest on Saturday and Sunday." She said.

Unfortunately for these girls, when any of them gets pregnant, their guardians send them home to their poor parents without compensation of any kind. Madam Esta whose ward got pregnant while living with her said. "It is not wickedness because when you got her you didn't bargain for extra. If she gets pregnant you return her to her parents or her uncles because she disobeyed you by sleeping around."

Continuing Madam Esta said. "I returned mine because her mother warned her in my presence and I also warned that if she got pregnant in the course of working for me she would be returned home."
But did the mother know that she would be hawking on the streets? She said "It does not matter. Work is work. Are we in Lagos to count bridges? Everybody struggles to survive."
In Nigeria, the number of children hawking on the street is alarming. According to the International Labour Organization, the number of working children under the age of 14 in Nigeria is estimated at 15 million. Several factors are responsible, but the major one is poverty. Parents who give their children out as house helps do so because of the worsening economic conditions. The same goes for parents who send their kids to the street to hawk goods or food items.
The bad news is that street trading has huge health implications for children's physical and emotional development. Besides, it exposes them to sexual abuse, physical exhaustion, accidents, death and malnourishment, drug and substance abuse and prostitution. Some of them had been crushed to death by vehicles while trying to cross highways.
Even though the Child Right Act has been part of the laws of the country for a couple of years, children are still seen on the street hawking. About 13 states have not domesticated the law. While implementation is a challenge in states where it has been domesticated. Section 1 of the Lagos State Street Trading and Illegal Market Prohibition Law 2003, restricts street trading and hawking in the metropolis. But like every other law, it lacks implementation.
Education is key. There is need for governments at various level to make adequate provision for every child to go to school. It is also the responsibility of government to protect children from being abused by their parents and guardians.