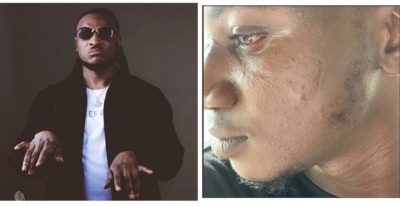 Singer, Tobechukwu Okoh, popularly known as Peruzzi, has apologised to social media influencer, Pamilerin for slapping him.
Peruzzi, had on Sunday slapped Pamilerin allegedly over some twitter comments made in January 2019.
The apology, posted on his twitter account @ Peruzzi_vibes read: "I did very wrong for yesterday slapping mr pamilerin, let my feelings get the best of me and I am very sorry. Apologies to mr pamilerin and also to the general public. I'd never get into such mess again. Love Only, I promise."
The incident, which took place in Bayelsa State, was first disclosed by @ vinavina01 who accused Peruzzi of slapping Pamilerin over a series of tweets made in January, 2019.
She wrote:
"Like guys, where did we loose our way? Who gave an artist the right to assault a fellow individual over an opinion that was aired? You call yourself a leader to the younger generation and is this what you preach? And using threatening words like 'I'll kill you'…..'I'll destroy you."
Pamilerin, later took to his own account @ thepamilerin to narrate his experience.
According to him, Peruzzi told his bouncers to hold him while he gave him some resounding slaps.
He wrote:
"What did I go to Bayelsa for, I had no idea I was going to come back to Lagos with a mini swollen eyes, all thanks to your fav for blessing me with that. I would have stayed in my Lagos and enjoyed the traffic in peace.
"After the event it was time to go back to Lagos and face traffic, I got into the bus that was taking us to Port Harcourt from Bayelsa, next thing I heard was, come down here, then I felt heavy hand pull me down.
"All I could hear was, are you AYE(cult), I could not respond because I was lost in thought. What is happening I said to myself. Then this guy dragged me where Peruzzi was standing. Ohh, it's you, I said to myself.
"Next thing, your super star Peruzzi pulled me up with the help of his bouncer holding my hands, the next thing I heard was boom. Is that from THOR I said to myself. He started screaming, don't you ever tweet about me again, you are mad, who do you think you are.
"This continued to about 20 minutes, everyone around was shocked and dumbfounded, he said how on earth will I compare him with Teni ????He said he does not care, but this is you abusing me after 6 months.
"Bearing in mind that I tweeted on the 6th January, 2019. When the whole comparison between himself and Teni surfaced online. I simply asked our gentleman not to compare himself that Teni has put in lot of work, so she deserved to be given her moment and credit."
Recall that earlier in the year, Peruzzi and Teni were both nominated in the same category for the Soundcity Music Awards which he lost to her.
This did not go down well with Peruzzi and he posted a tweet which many felt was him shading the organisers and Teni.
Pamilerin was also among the many Nigerians who made series of tweets on the issue in January.
Below are some of the tweets Pamilerin made in January which triggered Peruzzi.