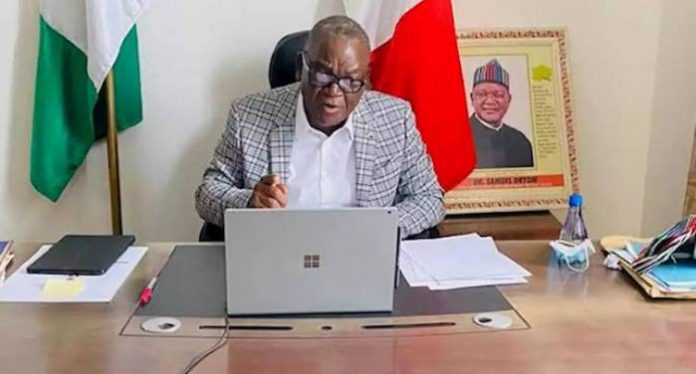 Following renewed herdsmen attacks in Benue state, a group known as MINDA Strategic  Contact Group (MSCG), has raised an alarm that over 200 people have been killed in Benue state by fulani herdsmen in the last four months.
MSCG, a non-political and sociocultural group of sons and daughters from MINDA axis of the state disclosed this while briefing journalists in Makurdi, on Friday.
Leader of the group, Mr.Terlumun Nyitse who lamented the wanton increase in the number of attacks on Benue Communities said since the beginning of this year, 2021, not fewer than 200 people have lost their lives while farm crops and property worth billions of naira have been destroyed.
Nyitse, a retired permanent secretary, therefore, called on President Muhammad Buhari to rise up and live up to his constitutional responsibility of protecting lives and property of people of the state.
Nyitse said, "This year alone, over 200 people have been killed thus far. These include the killings in Logo, Kwande, Guma, Makurdi, Gwer West, Apa, Agatu and Okpokwu local government areas.
"The destruction of farm crops, produce and property worth billions of naira also followed".
"We are constrained to alert the President of the Federal Republic of Nigeria, the President of the Senate, the Speaker of the House of Representatives, the Chief Justice of Nigeria, the Chief of Defence Staff, Service Chiefs, the Paramilitary agencies and the entire nation that Benue is under the threat of annihilation by suspected Fulani herdsmen militia/bandits, he said.
The group also expressed reservations on the statement by Mallam Garba Shehu that Benue State Governor should cooperate with federal government to implement the number of national strategies and programmes to address the constant herdsmen invasion.
The group rather noted that the federal government roadmap of RUGA and cattle colony were inconsistent with the peculiarity of the state.
They said the state, which is predominantly a farming community, had enacted a suitable law (anti open grazing law) which, according to it was not only the best global practice in animal husbandry but also a preferred policy strategy for addressing the conflict between farmers and herders.
Nyitse who reiterated his call on the president to protect all Nigerians, said "For the avoidance of the doubt, we stand with the Governor of Benue State, Samuel Ortom, the government and people of Benue State to demand that President Mohammadu Buhari should rise up to his duties as President and Commander-in-Chief of the Armed Forces of the Federal Republic of Nigeria to protect all Nigerians irrespective of tribe, religion, or sex.
"Because, this is the primary responsibility of government as enshrined in the constitution for which he also swore on," he said.