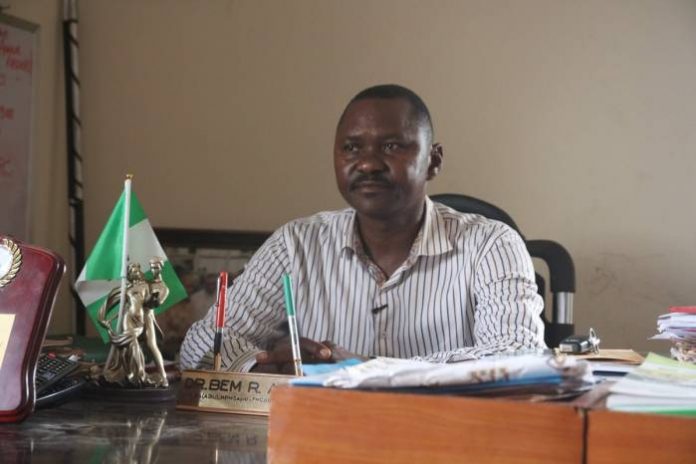 Benue state government said it is targetting over two million children for immunization during the next round of the 2019 measles and meningitis exercise in the state.
The Executive Secretary, Benue State Primary Health Care Board, BSPHCB, Dr. Bem Ageda made this known while briefing journalists in Makurdi on Wednesday.
According to him, a total of 1,108,990 children between the ages of nine months to 59 months are expected to be immunized against measles while 1,043,755 children between the ages of 12 months to 59 months would also be immunized for meningitis.
He stated further that 1,058,750 doses of meningitis vaccine as well as 1,101,690 measles vaccine would be used during the exercise adding that the campaign would be operating at fixed and temporary posts across the state.
Briefing newsmen on the activities to mark the 2019 Integrated Measles and meningitis campaign, Ageda explained that the Benue state government has made available about N30 million, while UNICEF has contributed about N92 million towards the success of the exercise.
READ ALSO: Ortom Flags Off 2019 National Immunization Plus Days In Benue
He also noted that the state Governor had already approved the release of the sum to ensure that all logistics were in place before commencement of the eight-day programme from November 16, 2019.
Also, the Director, Disease Control and Immunisation, State Ministry of Health, Joseph Korave said about 1,743 teams have been trained for the exercise.
He explained that each team made up of three vaccinators, three recorders, one crowd controller and one community mobiliser would be sent to each of the 277 wards in the state to carryout the exercise from 7am to 2pm daily.
Korave also stated that an emergency response team has been trained to take care of issues that may arise during the programme explaining that the team have been equipped with some sort of first aid kit; Adverse Event Following Immunity (AEFI) kit, to tackle any emergencies that may arise during the exercise.
He also noted that about 2.5 million vials have been made available by UNICEF and the Federal Government to ensure the success of the programme in the state.