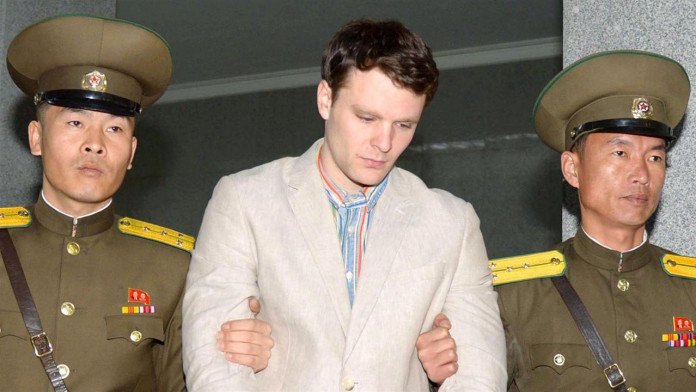 A bagpipe player led the motorcade as the funeral procession of about 2,500 well-wishers escorted the casket of Otto Warmbier down the tree-lined streets of his Ohio hometown in the United States of America, after a 45-minute service.
The gleaming black casket bearing the remains of the American student, who was arrested during a visit to reclusive North Korea, was draped in blue and white ribbons- colours of his alma mater, Wyoming High School.
The 22-year-old student returned in a vegetative state to Cincinnati last week after 17 months of captivity in the rogue state that has vowed to develop nuclear capacity to strike targets in the American homeland.

The memorial service held at Wyoming High School Arts Centre to bid him farewell, lasted roughly 45 minutes. The auditorium in this Cincinnati suburb can hold just 800 people, so most of those who attended watched the service on monitors in overflow rooms.
According to reports,
school's parking lot was also packed, and nearby streets were blocked to provide parking for those who attended and the media.
Among the speakers at the funeral were Warmbier's brother, Austin, his sister, Greta, and some of his friends, according to the funeral programme. Also in attendance was US Ambassador Joseph Yun, the special representative for North Korea policy, who helped secure Warmbier's release.
The front of the funeral programme featured a quote from Warmbier's 2013 salutatorian speech: "This is our season finale. This is the end of one great show, but just the beginning to hundreds of new spinoffs."
A rabbi conducted the service. After the speakers concluded, a police officer from the nearby suburb of Mariemont played the bagpipes as he led the casket, followed by a long line of mourners, back out toward a waiting hearse.
Mr Warmbier was freed after the US State Department's special envoy on North Korea, Joseph Yun, visited Pyongyang to demand the student's release on humanitarian grounds, capping a flurry of secret diplomatic contacts, a US official revealed last week.