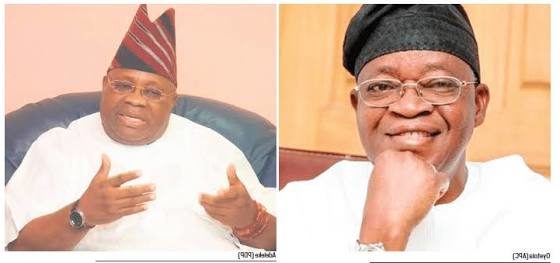 A survey conducted on Friday by Opinion Polling Agency, OPA, has shown that nine out of ten Osun State residents believe the governorship supplementary poll held on Thursday was rigged.
OPA is a pan African polling group.
The survey which the Ademola Adeleke Campaign Office said it had a copy explained that a total of 5000 residents were randomly questioned across the three senatorial districts of the state over the subject.
Adekola Samson, the agency project manager was quoted as saying:  "We asked four questions. Is the Osun supplementary poll free and fair? Who actually won the Osun governorship election? Which of the political parties deployed violence as a tool at the Thursday poll?"
READ ALSO: 2019: Okotie Emerges Presidential Candidate of FRESH Party
"For the first question, more than two third said the election was forcefully rigged by the APC. Almost the same two third said Ademola Adeleke won the election at first ballot. About 70 per cent said APC used extreme force against opposition PDP at the supplementary poll," Samson wrote in the report.
Samson said the likelihood of error was minimal because the subject of the polling was still very fresh in the minds of the public.
"We have local and international observers who volunteered to administer the oral questionnaire," Samson stated further.
He added:  "In reality we have more people who wanted to participate in the survey but we limited the number to 5000 with the sample comprising of women, men and young voters."
African Polling Agency is affiliated with the Good Governance Office of the African Union.