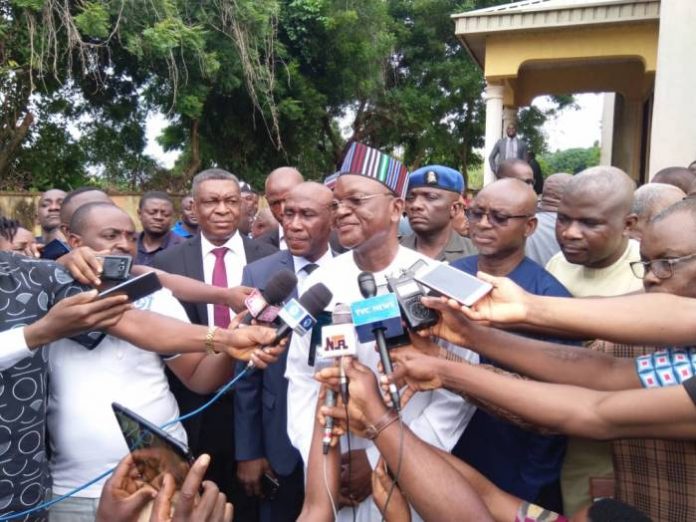 Benue State Governor, Samuel Ortom, on Saturday, stormed the Governorship Election Petition Tribunal in Makurdi, to close his defence in the petition filed against him by the governorship candidate of the All Progressives Congress, APC, Emmanuel Jime in the last general elections.
The governor had on Friday opened his defence against the petition brought before the tribunal by Jime.
After calling one witness he subsequently closed his case on Saturday.
The Governor was accompanied by members of the State Executive Council, EXCO.
Speaking to newsmen, Ortom insisted that the election which returned him as governor was free and fair and expressed confidence in getting judgemnt at the end of the day.
"I want to say that as far as I'm concerned, the election was free and fair and I'm here today, out of respect for the court. I am very very optimistic that the court will give me justice because I won the election".

The lead counsel to the Governor, Sabastine Hon, SAN, explained that Ortom who is the second respondent closed his case "after calling one solitary and strong evidence in our own estimation.
"And having regards to the evidence led by the petitioner, in conference, we concluded there is no need to call any further evidence. So we closed the case and we are very hopeful."
Hon, further noted that the petitioner who is a star witness did not sign his witness statement. "The petitioners' second star witness's statement was not also signed. Under our laws, the petitioners have the sole and singular duty of proving their case.
"We don't have the duty of proving anything at all except if they prove to some extent then we have a duty to disprove. But they haven't done that and on that note, we decided to close our case."
Counsel to Emmanuel Jime, Kehinde Eleja, SAN, said petitioner has put his case forward and issues have been joined concerning the card reader.
He said their case was that, "if you go by the records contained in the card readers, the votes that were ultimately returned had irreconcilable differencies which is evidence of irregularities at the election among others.
"But like I said, we have put our case across, they called a witness yesterday in response to 59 witnesses that we called. It is now for the court to decide whether or not, card reader is relevant to this case. I believe that we have done the needful and we hope for the best."
Earlier, Chairman of the Tribunal, Justice Henry Olusiyi adjourned the case to Monday, 19th August, 2019, for adoption.