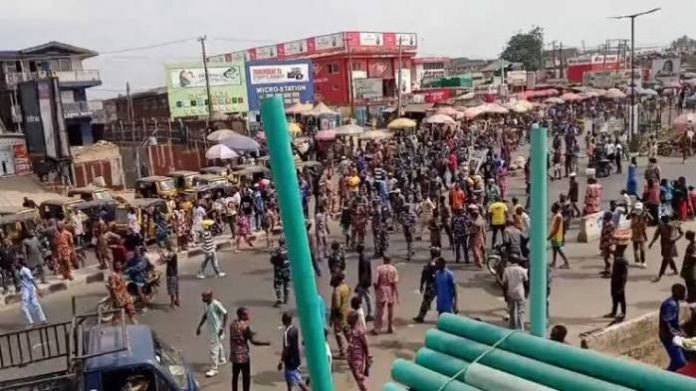 A team of security personnel have dispersed a group of hoodlums who attacked their convoy while on patrol around Apata Junction Market, Ido Local Government Area of the state..
SP Adewale Osifeso, the Oyo State Police Command's Spokesperson, confirmed the incident in a statement made available to the News Agency of Nigeria on Saturday.
Osifeso said the security personnel ran into the hoodlums while on patrol of blackspots and flash points.
"In a rather surprising event, the hoodlums who had perfected plans to molest residents, harass shop owners and loot shops, on sighting the combined convoy of security launched series of unprovoked attacks by firing guns, hurling stones, sharp objects and other dangerous missiles at them.
READ ALSO: I'll Ensure Nigeria Is Restructured In 6 Months – Atiku
"The trained officers, cautious of the level of casualties that might be recorded should they engage at the location, resorted to restraints and professionally took charge at the scene.
"The team arrested the situation with reasonable force in line with police standard operational procedure.
"However, during the rage, an individual identified to have been a member of a vigilance group and who was reported to have died in the fiasco, has since been deposited at a government hospital for post-mortem," he said.
Osifeso added that normalcy had since returned to the area,  with heavy deployment of patrol teams and other tactical assets visibly on ground.
He said the command would continue to ensure relative tranquility in the state despite pockets of protests witnessed in some parts of Ibadan metropolis. (NAN)