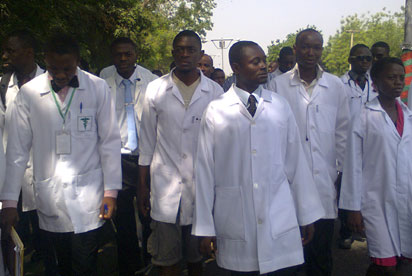 The Association of Resident Doctors (ARD) of the Federal Medical Centre, Idi-Aba, Ogun State, have commenced a warning strike to register their displeasure over an assault on one of them by a patient's relative.
The doctors announced the warning strike on Tuesday.
The President of the Association, Dr. Adekunle Jimoh, who spoke to journalists at the hospital in Abeokuta, complained of frequent assault on health workers by patients, saying it was becoming a menace in the health sector.
According to him, health workers were targeted, beaten and lynched outside the hospital.
His words: "We, the doctors say this is unacceptable and we are not going to tolerate such acts any longer.
"A member of ours was assaulted yesterday (Monday) around 6:30p.m by a patient's relative in the course of the doctor trying to take care of a patient.
"We have decided to down tools for at least 24 hours, which started today to press home our demand.
"We should have said we should go on indefinite strike, but we also want to put other patients, who are not involved, into consideration."
Jimoh, who narrated what transpired between the patient and the doctor, explained that a female patient who was putting on a flowing long Hijab entered the neonatal ward.
READ ALSO: Adesua Etomi-Wellington Slams Lauretta Onochie
He said the doctor, Jelili Gbajumo, who was on duty, corrected her that she was not supposed to wear a flowing gown into the neonatal ward because it could sweep infection into the ward.
"The patient got angry and went to call her husband, who came with another relative, accosted the doctor and slapped him.
"The relative, who slapped the doctor, escaped before other doctors got there.
"No matter the level of provocation from the doctors, it does not give any patient the right to slap a doctor,"  Jimoh said.
The Chairman, Nigerian Medical Association (NMA), Ogun State chapter, Dr. Oladayo Ogunlaja, said that physical assault on doctors by patients was not the first time, adding that it must be stopped.