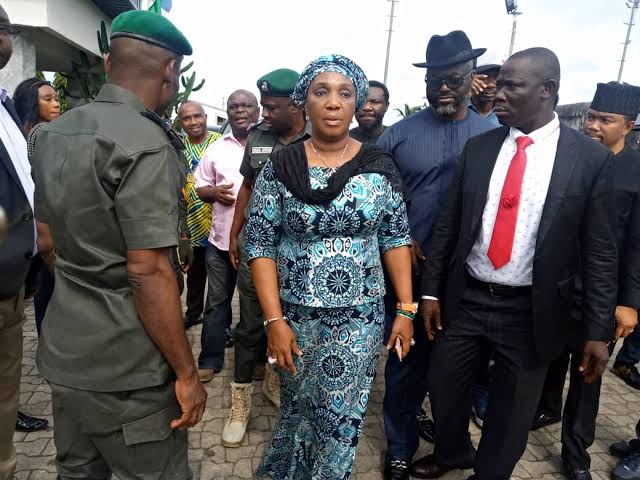 The National Union of Ogoni Students International (NUOS Int'l), United States of America (USA) and Ogoni Lives Matter International (OLM, USA) have congratulated Dr. Joy Yimebe Nuieh on her recent appointment as the Interim Managing Director of Niger Delta Development Commission (NDDC).
Nunieh is said to be the daughter of the late Senator Gbene Cyrus Nunieh, the grand patron of NUOS International, USA.
The congratulatory message was contained in a statement jointly signed by President, NUOS International, USA; Pius Baripkoa Nwinee, Secretary General, NUOS International, USA; Sampson B. Npimnee, Coordinator of OLM, USA; Cornelius J.S. Dumerene and Secretary OLM, International, USA, Toate Ganago.
The groups commended President Muhammadu Buhari "for appointing an Ogoni daughter, mother and legal juggernaut to the position of interim Managing Director of NDDC."
The groups, however, said they expected Nunieh to give the forensic audit her undivided attention to ensure that the Niger Delta had exceptional care and reform developmental projects it deserves.
"We, therefore, reiterate our commitment, support, and advocate that the President shouldn't be perturbed by those echoing noise of time limit, zoning, and whipping hate as a vehicle to defraud Niger Delta area.
READ ALSO: NDDC: Heads To Roll Over Alleged N1trn Fraudulent Contracts
"We express confidence that Dr. Joy Nunieh's appointment is a testament to the trust and courage she has shown and earned, her wisdom, experience, sense of engagement, devotion to the service of others, and the ultimate legacy of her forefathers, and Ogoni at large, are of value to the commission.
"On this note, we remind Dr. Nunieh not to forget the military government/Shell battle ground within Ogoni/Andoni-Nkoro border towns of Kaa, Kpean, Tera-ue, Gwara, Teenamma, among others, that were wiped out at the inception of the Ogoni struggle, giving the ultimate price paid by these host communities that led to the formation of NDDC," the groups added.
The groups expressed dismay over the alleged plan to carry out what they called the existing tools of time limit and zoning that they said, held a stronghold of corruption on the commission since inception.
According to them, these have not only marginalised the people, but also "rewarded corrupt individuals rather than transforming the Niger Delta Area."
They called on President Buhari to confirm Nunieh's appointment, "reject and dismantle this fraudulent practice of time limit and zoning that has not only sabotaged the purpose of the commission for the Niger Delta, but also emptied our schools, hospitals, recycled poverty, violence and basic local infrastructure for development."
The statement noted that Niger Delta did not begin in Edo State, Delta and ended in Bayelsa, but that it also extended to other places, particularly Ogoni, which they said, had championed the fight and sacrificed more lives for the restoration of property rights to the Niger Delta area.