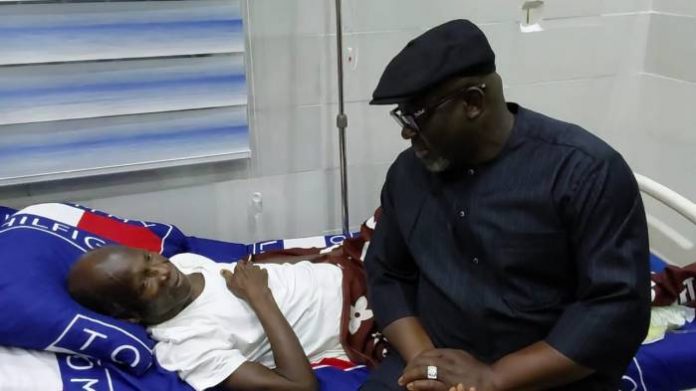 …..picks bill of 2 other patients
Governor Sheriff Oborevwori of Delta State, Friday, visited ailing elder statesman and erstwhile General Secretary of the National Union of Petroleum and Natural Gas Workers (NUPENG), Chief Frank Kokori, at an undisclosed hospital in Warri.
Oborevwori visited the hospital after information reached him that the senior citizen was ill.
Speaking during the visit, Oborevwori said the State Government would do everything possible to assist the former labour leader in getting quality treatment.
He said Kokori deserves the attention and support of the State Government as a renowned elder statesman who had paid his dues for good governance for the nation.
The Governor who also paid hospital bills for two other patients, Nnadi Silas and Adenusi Michael at the hospital, said despite their political differences he would ensure Chief Kokori was given the due attention he deserves as an illustrious elder statesman from the state.
He said: "I know people will think that because he is an APC chieftain I won't be here, Deltans voted for me as Governor. It is not a party matter now because we have finished election and all of us are one.
"Whether he is APC or not, I'm Governor for all Deltans so I'm here as Governor for all not for any party," he emphasized.
Responding, Chief Kokori commended Governor Oborevwori for behaving like the Yorubas who treat their elder statesmen well irrespective of their party or political leanings.
"I never knew Governor Oborevwori is a good man because immediately he heard about my condition, he came to see me.
"He wasn't close to me, it is Great Ogboru and Ovie Omo-Agege and co that are close to me so I'm so happy that he is not a mean fellow.
"He is a real Governor, a man who has such a heart is a good man and I have told him certain things privately how he will make his name in the history of Nigeria.
"I have told him to do certain essential things for the people. I am happy with him and have also prayed for him," he said.