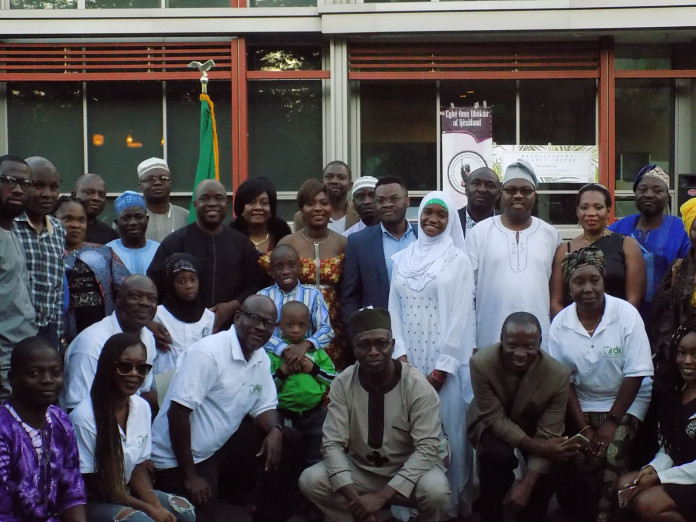 Nigerians in the U.S. on Monday converged on the Nigerian Embassy in Washington, D.C. to join in the celebration of the 57th independence anniversary of the country.
The correspondent of the News Agency of Nigeria (NAN) reports that various Nigerian professional, non-profit organisations, tribal associations and Nigerian Embassy officials joined in the celebration.
Ambassador/Deputy Chief of Mission, Embassy of Nigeria in Washington, Hassan Mohammed, said Nigeria had reasons to celebrate in spite of its numerous challenges.
The Nigerian envoy said: "We have come a long way. We have challenges but there is no nation on earth that is devoid of problems.
"Even as you grow and develop, you encounter challenges and the mark of progress is to take care of challenges as they come and this Nigeria is doing."
Mrs. Abi Mustapha-Jinadu, outreach chairperson of the event, said the occasion was an opportunity for them to share thoughts about Nigeria and collaborate to support Nigerians back home.
The Nigerians, many who have empowerment projects back home, called for collaboration among the diaspora to support their home country in its challenging moment.
Mrs Patience Key, chairperson of Nigerians in Diaspora Organisation, Americas (NIDOA), U.S. Chapter,  said every country had challenges, adding Nigeria was not an exception.
Key, however, said the challenges of the country were surmountable, pointing out that a country was as good as its citizens because the citizens made up the country.
"It is the people that move the nation forward. Nigeria is you and me. A better Nigeria is possible. Just play your part by doing what is good and Nigeria will be better," she said.
Mrs Aky Mbakwe, General Secretary, Imo State Women Association, USA, challenged Nigerians in the U.S. to support and give back to the country.
Mbakwe said the association was formed to give back to the people back home in Imo adding, the group intervened in medical and educational sectors in the state.
Dr. Samuel Alfa, who is the leader of the Kogi State Organisation, North America, said the indigenes of Kogi, in spite of the state being made up of many tribes, were united in the diaspora.
Alfa, a leader of the Igala Association USA, said the association shipped books and other educational materials to contribute to the educational advancement of its people back home.
Mr. Abiodun Adepoju, leader of the Egbe Isokan Yoruba, said the association had been promoting Nigeria through propagating the Yoruba culture and had established the Yoruba Language Institute.
"We teach our children the Nigerian culture; we teach them the Yoruba language and culture and let them know that virtue is what we cherish most," Adepoju said.
Rev. Canice Enyika said the 57th independence anniversary was a time for deep reflections adding, "all of us are involved in the Nigerian Project, it's not for any one person."
"My foundation, Stewards of Hope, is dedicated to preaching universal values. Let us start appreciating the dignity of the human person irrespective of our ethnicity and religion," he added.
Mrs. Titilayo Caetano, challenged Nigerians to stop asking the government to do everything for them, saying they were the government and should contribute their own quota.
"Government cannot do it alone. Whatever little you can do to touch even just one person or family, do it and don't wait for government to do it," she said.
Caetano, who is founder, Vineyard International, said the foundation had rehabilitated health centres and sunk boreholes at Badeku, Oyo State, and would be going to Ekiti State this year for outreaches.
Ms Zainab Sheni, declared that Nigeria could not break as the country was stronger together.
She tasked diaspora Nigerians to emulate the Israelis and Chinese who returned from America to develop their countries.
"We all can do something to help our people back home.  We are privileged that in the U.S. we have access to the best medical services; in Nigeria, they can't afford it.
"We should sacrifice for the people at home. I have a foundation – International Centre for Education and Health Services – that ships medical equipment back home in Plateau."
Mr Chuck Eleonu, chairman of NIDOA Virginia Chapter, challenged Nigerians to stop complaining about government back home, saying there was the need for them to collaborate to bring  positive change.
Eleonu said back in Nigeria, his group had a project to empower kids displaced by Boko Haram terrorism through providing alternative educational and learning facilities for them.
Mr. Chike Anyanwu, tasked Nigerians in diaspora on political participation, saying when their children want to go to Ivy League schools and other issues, they needed references from political leaders.
Several other speakers stressed the need for a united Nigeria and tasked leaders to create opportunities for the youth and make personal sacrifices to make life meaningful for the common man.
(NAN)