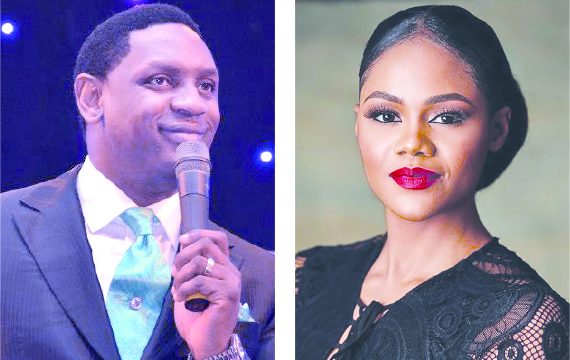 Nigerians are still reacting to the explosive interview that was published by RED Media after interviewing Timi Dakolo's wife.
In the interview, Busola Dakolo, wife of Musician Timi Dakolo, narrated how Pastor Biodun Fatoyinbo of Commonwealth of Zion (COZA) allegedly raped her when she was 16 through 17 years of age.
Nigerians on social media are rising up and showing solidarity with her, while some are asking for proofs that she was raped.
Pastor Biodun, on the other hand, released a statement on Friday denying it and also stating that he would be pursuing a legal action against the Dakolos.
Below are some of the reactions the interview has generated.
@a_ohjay
"She has nothing to gain from all this! Absolutely nothing!
I believe she made peace with this issue ages ago, but I believe something or someone that it has happened to triggered her to speak.
This is a fight for many people that go through same in churches."
@DaBishop007
"@timidakolo I salute you for supporting BUSOLA through this. BUSOLA DAKOLO, I admire your strength, salute your courage and know that God has mighty things in store for you.
All you young women (and men) out there who have been raped or sexually harrassed by your bosses, leaders, pastors or politicians…please summon the courage to speak up. Don't let social media or these perverts intimidate you. We love you and will support you. #EndRapeStigma"
@Olayinkalere
"To me, it appears like a CONSENTED Rape…
But wetin I know self???"
@YemecceF
"I work with mental patients and contrary to what most of y'll think, their silence led them into being depressed, manic, and sadly suicide. Silence does that to you. I know a victim when l see one and I'm with her. #IStandwithBusola"
@Iamslysong
"This my sister had been crying since yesterday oh. Coza Fc girl.
She has refused to tell me why she's crying maybe it's cause of the video from #istandwithBukolaDakolo or if she has any experience. I just pray not ?but I don't know what else to say to make I talk to me."
@StellaDamascus
"I am in tears right now. Just got off the phone with someone I have known for 15 years. She had the same experience with this same pastor. The details of her experience were so shocking. She told people around him, but they all suppressed it. Are people still doubting this incident?"
@DrJoeAbah
"I have seen Biodun Fatoyinbo's statement. I look forward to him carrying out his threat to sue Busola Dakolo. As Mrs Dakolo doesn't have a church that can fund her defence, I have set aside a little money to contribute to her defence. Please do so too. #IStandWithBusolaDakolo."
@SimplyAzodo
"Dear @BiodunFatoyinbo I do not think that Busola Dakolo tried to extort money from you and when she failed, she resorted to blackmail.
This your response is "anyhow"
BTW, why post do a press release and then restrict comments?"
@StephanieCoker
"Why do men in particular always find it hard to believe a woman when she claims to hav been raped? All this talk about being logical & her story being flawed. If it were a guy you envied being falsely arrested you would be quick to find him guilty. So pls shhh! #istandwithBusola."
@LalaAkindoju
"A woman would not risk her integrity, family, and all this bashing to gain popularity or help her husband's already successful career. Have you watched the full interview??? It's too detailed to be scripted/fabricated."
@CandyBliss95
"I will carry this matter on top my head, the Church of Christ must be Cleansed."
@Vinideangelo
"There's no template that directs the response of a victim.The trauma disarms the victim and puts them in a state of quagmire. We lose our humanity when we stop protecting one another."
@Ugoeze110
"Truth is, most of us worship the "man of God " rather than God himself… No matter how you put it, there is, however, no justification to rape..
Go to church but have sense…"
@EstherIjewere
"Before you judge this woman because her husband is a celebrity, pray you never find yourself up against a #ManofGod
Thanks for speaking your truth against all odds Busola Dakolo.
My name is Esther Ijewere and #IstandwithBusolaDakolo #IstandwithBusola"
@Tiannahstyling2
"Disgusting news to wake up to. Women are going through so much pain and this must stop. Credits to this beautiful woman for coming out and sharing her story."
@walerdah
"Powerful men have gotten away with sexual assault too much and for sooo long! #IStandwithBusola."