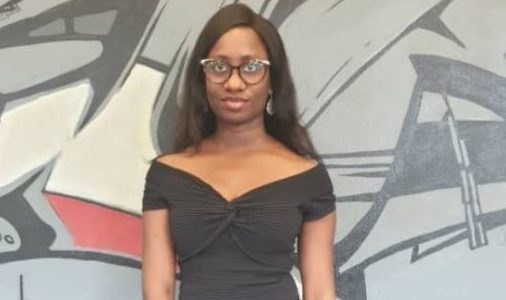 The death of Adewura Bello, the 26-year-old Accounting graduate of the University of Lagos, UNILAG, who was declared missing on Wednesday, May, 15, 2019, has been described as one unnecessary death too many.
Reacting to her being washed away, into a canal after being thrown off a motorcycle that fell into a manhole, Twitter users blamed her death on the negligence of those in authority.
Adewura had been declared missing by her family when she didn't return home from work after the heavy downpour of May 15 and her picture had gone viral on social media.
However, after more than a week of Nigerians tweeting and posting her pictures in order to help the family find her, a cousin, Benjamin posted a tweet on Sunday, May 26, 2019, announcing that her body was found in a canal.
"Thank you all for the search. Adewura is dead. Her body found in a canal. Heaven has gained an angel. We depart to meet again. Till we meet again Adewura. Forever in our heart. God, I am in pains but who am I to question you. Rip," he tweeted.
Many insist that the deceased died due to the negligence of those in authority.
On Tuesday, May, 22, a Twitter user with the handle @Otunbakush reported that a lady was swept away in a flood that was caused by the heavy downpour on the said Wednesday.
"So, on this missing lady's issue, heard some guys talking about a lady that got swept away around that Mosan Canal area during the heavy downpour on Wednesday, heard the lady was on a bike, the description of the lady matches Wura's identity. I heard people told the bike man not to pass" she said.
Another user confirmed Adewura's death and what had led to it.
"Thanks for the search. Adewura is dead. "Negligence by the relevant authorities as usual. An unnecessary death due to an open manhole during a storm. Manhole was left open but fully covered with flood; she and the bike man missed it due to bad visibility. She wasn't aware," he said.
READ ALSO: Court Summons Niger CP over Failure to Arrest of ex-Niger Gov, Aliyu
Ever since the news of her death broke, Nigerians home and abroad have taken to social media calling on the relevant authorities to do something about the manholes.
Below are some of the reactions:
"Teary eyes, painful heart and a disdain for a terrible society that killed our own Adewura. We lost a beautiful soul. @ChidiOdinkalu, can we have a 5-minute candlelight for Adewura on May 28 at the Unity Fountain, Abuja, before the National Day of Mourning? Painful." – @ariyoaristotle
"It saddened my heart and I was emotionally deflated hearing about your demise. I re-tweeted the Social Media alert of your missing, while @mzgbeborun used your picture on her Display Picture, DP, with the hope that you are going to be found and returned happily back home to your family."
"RipAdewura – @iamibracavelli
"Adewura is a victim of a country where their shameless leaders have taken governance as a child's play. Nothing matters to them except collecting huge salaries and embezzling money that's meant to build infrastructure that is accessible to everybody." – @ogochukwu_paull
"In a serious country, this will automatically lead into an investigation and inquiry into the state of manholes and canals across Lagos. For lessons and prevention of reoccurrence.
Government must step up and do its job.
It would be a real disaster if in a few days, we just "move on."- @DrOlufunmilayo
"This is a good time to preach on proper disposal of waste to avoid blocked drainages, flooding etc.
But we all know that manhole did not open itself, someone opened it and left it that way. The same negligence we find in every area of our public service." – @FCChidera
"The News of Adewura's death makes the argument for having a national day of mourning more compelling. We need to remind ourselves of the pain families go through, because of negligence and greed on the part of the rulers and the ruled. Hopefully, it will reduce death #RIPADEWURA" – @Juba_adeola