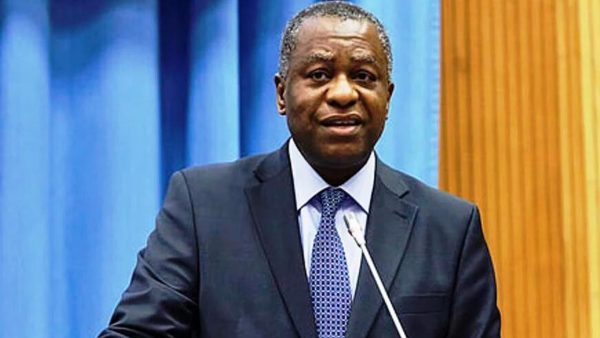 Nigeria has donated 315 tonnes of assorted relief materials and one million dollars cash to Sierra Leone to help alleviate the suffering of people affected by flood and mudslide in the country.
Nigeria's Minister of Foreign Affairs, Mr. Geoffrey Onyeama, made the presentation to his Sierra Leonean counterpart, Mr. Samura Koroma, in Freetown on Tuesday.
The relief items included bags of rice, beans, maize, sorghum, milk, spoons, plates, mattresses, blankets, roofing sheets, soaps, mosquito nets and mats.
Others were medical supplies, such as anti-malaria drugs, antibiotics and disinfectants.
Onyeama, while making the presentation, said President Muhammadu Buhari sent him to express to the government and people of Sierra Leone his profound sadness over the tragedy that occurred last week.
"We have come on behalf of President Muhammadu Buhari who heard the sad tragedy that befell your country and your people.
"Myself, the Director-General of NEMA, Mustapha Maihaja; and representative of the Minister of Health, Zainab Sheriff, have come to really express our profound sorrow and condolences for the large loss of lives, damage to properties and suffering of a large number of people in your country," he said.
Onyeama said Nigeria and Sierra Leone had a very strong bond making both countries feel they belonged to the same family.
"Therefore, your loss is our loss. We grieve with you at this occasion," he said.
He said although Nigeria was facing a huge humanitarian, economic and social challenge, it shared the pains of the people of Sierra Leone.
"We are flying constantly large quantities of food supplies and medicines and also a cash donation of a million dollars.
"Our planes will be carrying about 315 tonnes of food and medicines.''
He said some of the cargo might be delivered by sea.
Onyeama said the gesture was ''a token of our solidarity with the Government and people of Sierra Leone.
''You are very much in our heart and we pray for you to overcome this tragedy soon."
Koroma expressed appreciation to Nigeria for the gesture, adding that ''Nigeria had always been there for Sierra Leone in the past.
"You were there for us during the civil war when Nigeria sent her troops.
''You sent your support and personnel during Ebola disease outbreak, and you are here to support us again during this time of mudslide and flood."
On August 14, a downpour which caused severe flooding in Freetown and a mudslide in the Regent area left more than 300 people dead, including children.
The incident left more than 3,000 homeless and in need of humanitarian assistance.
Some 600 people are still missing and rescue workers warn that the chances of finding survivors are decreasing each day. (NAN).
Next Edition… Always Ahead