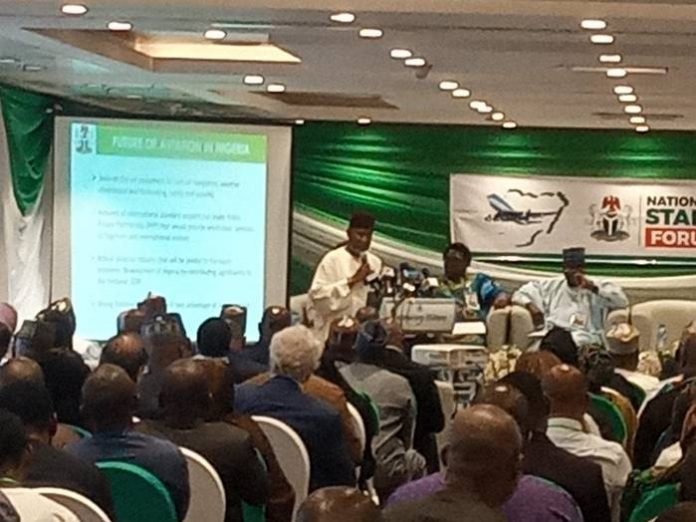 The Federal Government has assured that the National Carrier will take to the sky before May 29.
The Minister of Aviation, Sen. Hadi Sirika, gave the assurances during his presentation at the National Aviation Stakeholders Forum 2023, on Thursday in Abuja.
According to him, the Federal Government is taking all necessary measures to overcome the hurdles introduced by the indigenous airlines that went to court to stop the process.
The minister, however, said that the Muhammadu Buhari administration had supported local airlines more than all previous governments in the country.
Sirika said the national carrier would create numerous jobs and better opportunities in the industry when fully established.
He said that the Nigerian aviation industry was the only one in the world where qualified pilots were without jobs.
"About 50 pilots have come to me complaining about their unemployment status. The national carrier should be able to employ more pilots and create other job opportunities.
READ ALSO: FG Hails First Female Commodore, On Elevation, Retirement
"Ethiopian Airlines, the offered bidder for the national carrier is highly competent, and profitable enough to add value to the Nigerian aviation sector," he added.
Sirika said the ministry had focused on investment in airports terminals by the private sector and airside infrastructure in the last couple of years.
He said that the ministry had supported development of associated services such as aircraft maintenance and airport service providers.
"By the investment in air navigation systems to provide and improve safe, and enhanced air traffic management services.
"Support financing of airlines and other aircraft-related investments based on the feasibility, transition gaps and sustainability of such investment.
"Also, providing an overview of the infrastructural developments and other allied achievements in the Aviation Sector since the inception of President Buhari's administration," he said. (NAN)