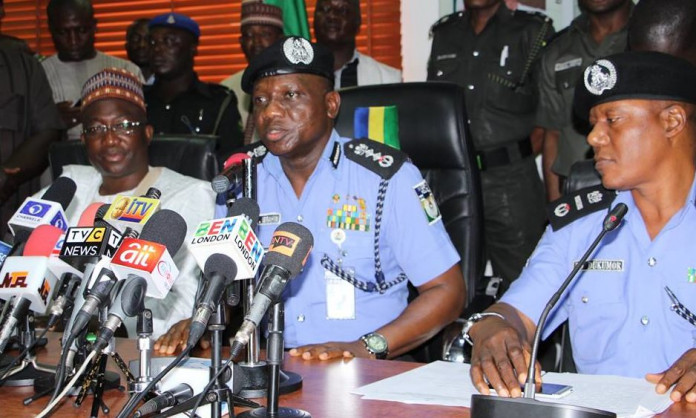 Barely one week after The NEXT EDITION published an investigative report detailing high-level extortion of motorists by security agencies, the Inspector General of Police, Ibrahim Idris, has ordered the dismantling of checkpoints across the country.
Mr. Idris' order comes on the heels of a similar order by the Nigeria military high command.
READ ALSO: EXCLUSIVE: Next Edition's Report: Military Dismantles Checkpoints in Adamawa
After weeks of interviews and undercover exploration of the activities of security operatives deployed to checkpoints, they were found to be tacitly sabotaging the government's efforts to eliminate Boko Haram and grow the nation's economy.
The report also revealed how soldiers, police, customs, immigration and civil defence operatives frequently receive hefty bribes and turn a blind eye as fuel marketers and smugglers divert truckloads of petrol and foodstuffs to Boko Haram enclaves and neighbouring countries.
READ ALSO:  INVESTIGATION: Bribe-taking Nigerian security forces pushing petrol to Boko Haram, sabotaging war
Apparently reacting to the NEXT EDITION report, IGP directed assistant inspectors-general (AIG) and police commissioners (CPs) across the country to ensure no checkpoint including those mounted by revenue agencies are allowed on the nation's roads and highways.
The Force Public Relations Officer, Jimoh Moshood, made the IGP's order known while addressing journalists in Abuja on Monday.
The IGP said the move became necessary not to obstruct any road or highway, under the guise of collecting revenue, throughout the period of Christmas and New Year celebrations.
Instead of checkpoints, Mr. Idris directed police zonal and state commands to ensure visibility and crime prevention patrols in their Area of Responsibilities (AOR) throughout the country.
He enjoined commissioners of police and their supervisory assistant inspector-general of police to be on the ground to ensure adequate safety of lives and property of all Nigerians, during and after the period.
"The IGP has re-emphasised same directives to all Commanders of Police Mobile Force (PMF), Counter Terrorism Unit (CTU) and Federal Special Anti-Robbery Squad (F-SARS), Mr. Moshood said.
"Also included are police Special Forces and specialised units, including Special Tactical Squad, Special Protection Unit, Border Patrol and Explosive Ordinance Department, among others.
"Security threat assessment and deployment of police personnel to flashpoints and vulnerable areas have been carried out to prevent and nip in the bud, any form of inter-party frictions, political thuggery and clashes that can disturb public peace anywhere in the country," he said.