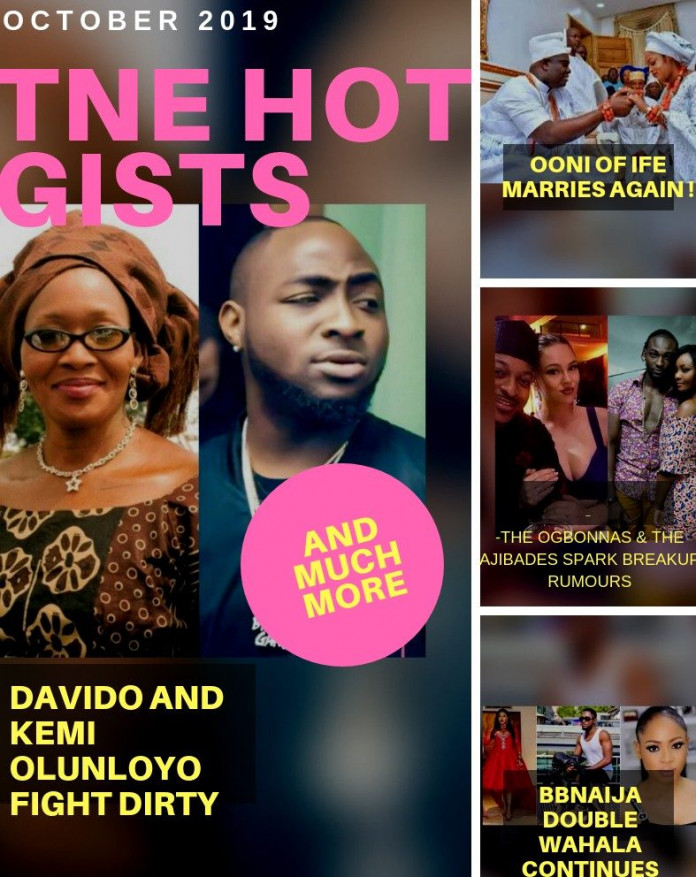 October was packed with so much drama on and off social media. From Breakups, celebrity marriage, Clapbacks and politics, there were more than enough actions to keep the social media lit.
Nollywood actors succeeded in giving us drama & romance both on TV and real life.
As we cruise on in the month of November, which is already hot with gists, we serve you a recap of some of those juicy gists of October.
TROUBLE IN PARADISE:
IK AND SONIA OGBONNA SPARK BREAKUP RUMOURS
IK Ogbonna and wife, Sonia Ogbonna sparked break up rumours after Sonia took off his last name 'Ogbonna' from her name on Instagram. She also made sure to encourage breakup stories by occasionally flaunting her left hand without her wedding ring.
Sonia who is a blogger and relationship expert sure has a reason for these actions although IK Ogbonna in an interview with The Punch has denied the breakup between him and his wife, admitting to the fact that every relationship/marriage has its ups and downs.
We guess Mr Ogbonna is going to win back her love!
JULIET IBRAHIM BREAKS UP WITH ICEBERG SLIM
Hmm! Before we could recover from the Ogbonnas breakup rumours, Juliet Ibrahim declared herself single during an interview in Ghana. She said 'I have made it clear that I am single.'
This declaration left many surprised as Juliet and Iceberg appeared to have been so in love to the extent of getting tattoos with the inscription 'LO' on Juliet's hand and 'VE' on Iceberg's hand.
Still, some people were not that surprised. They were of the opinion that the relationship won't last as the two appeared incompatible.
Well, they may have been right as the relationship ended as hot as it arrived.
So what happens to the tattoos?
GBENRO AND OSAS AJIBADE, ANOTHER BREAKUP RUMOUR
Just when we thought we have had enough of breakup drama, Nollywood actors, Osas Ighodaro and Gbenro Ajibade rolled out their tape. They gave their fans some heartbreak as Gbenro ignored Osas birthday, unfollowed her on social media while vacationing in the U.S.
Osas on her part has remained quiet still, wearing her wedding ring.
Although it is obvious that there is trouble in paradise, it looks like the couple are doing their best to work on their marriage.
Here's wishing them luck.
UBI FRANKLIN AND LILIAN ESORO GIVE US CO-PARENTING GOALS!
On a brighter side, Ubi Franklin and estranged wife, Lilian Esoro seem to be co-parenting very well. Everything looks great on their ends as they both comment on each other's Instagram posts. This has given hope to their fans who still believe that the pair are likely to come back together.
Well, let's hang in there!
OYAKHILOME GIVES DAUGHTER AWAY IN MARRIAGE
Pastor Chris Oyakhilome's daughter, Sharon tied the knot with her Ghanaian sweetheart Philip Frimpong at the Christ Embassy headquarters in Lagos. The couple were joined together in marriage by Pastor Benny Hinn. The mother of the bride, Anita was however conspicuously absent at wedding ceremony.
BBNAIJA DOUBLE WAHALA CONTINUES
We are definitely not hearing the last of this reality TV show. The month of October came with the Tiannah, Miracle and Nina saga. Some months back, Miracle publicly 'dumped' Nina on social media leading to Tiannah's outburst on social media accusing Miracle of taking advantage of Nina. Surprisingly last month, Nina posted a video of herself and Miracle in Ghana stating that they were friends and fans should refrain from insulting Miracle. She also followed Miracle again on Instagram. This didn't sit well with Tiannah as she blocked Nina on social media.
What is going on between Leo and CeCe? One minute they claimed to be 'just friends', the next minute they were seen kissing, going on dates and even going to church together.
Something is definitely brewing there.
OONI OF IFE MARRIES HIS THIRD BRIDE
The 43-year- old Ooni of Ife got married to his third wife. He took to his Instagram page on the 19th of October to announce the new union with pictures of his new wife. The new Olori is a 25-year-old Prophetess named Naomi Oluwaseyi. She is said to have begun ministering at the age of 18.
The Ooni was married to his last wife, Queen Zaynab for only a year and their marriage wasn't blessed with any child.
Queen Zaynab congratulated the couple on their union on her page.
READ ALSO: Banky W declares intention to run for House of Representatives come 2019
CLAPBACKS – DAVIDO FEAT. KEMI OLUNLOYO, WIZKID FEAT. TWITTER USER
Nigerians don't hesitate to clapback on social media and interestingly, celebrities now clapback at fans or anyone who comes at them.
Recently, Davido and Kemi Olunloyo had some back and forth clapbacks on twitter after Kemi insinuated that Chef Chioma had dump Davido because he got someone pregnant. Furious Davido clapped back at Kemi and referred to her as an old woman who is 'rusty down there.' Well, Kemi wasn't taking it lying low as she replied Davido insisting he had a side chic.
This was one hell of a twitter and dirty fight.
Wizkid on the other hand is still getting it hot from angry Nigerians over the neglect of his first son and baby mama, Shola. It seems Wizkid got tired of the backlashes and responded to a twitter user who asked after his first son. He tweeted "They doing good. Thanks…I hope your fada is home with you right now?" However, the fan gave an epic response to this; "My 'fada' help put me in my own home. According to Shola you're not even quarter of that at your net worth (it is well)" she wrote.
These two clapbacks caused so much uproar on Nigeria social media.
MERCY AIGBE, TOKE MAKINWA AND AMBODE
Mercy Aigbe found herself embroiled in some controversy after rumours of her involvement with Gov. Ambode surfaced online. The rumour was that Governor Ambode bought her an expensive mansion. In the midst of this controversy, Toke Makinwa was somehow dragged into it. She was accused of also having an affair with politicians.
Mercy Aigbe however denied the allegations in an Instagram post stating that she earned everything she has through her hard work as an actress, brand influencer and her boutique.