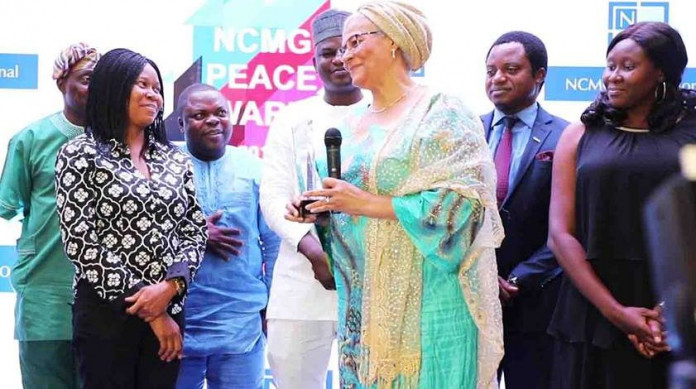 The Negotiation and Conflict Management Group (NCMG) International on recently in Lagos bestowed posthumous special recognition awards on both Dr. Ameyo Stella Adadevoh and Mr. Gamaliel Onosode in recognition of their track records of exemplary leadership.
Also at the event, which held at the Oriental Hotel, Lagos, Dr. Fatimah Akilu of NEEM Foundation won the Peace Builder Award; Mrs. Josephine Okei-Odumakin won the Justice Builder Award; Khairatul Saidu won the Youth Innovation For Peace, just as Almajiri Child Rights Initiative (ACRI) won the Institutional Peace Builder Award respectively.
In her welcome address, Prof. Isabela Okagbue, Chair of NCMG Peace Awards Committee, explained that the award was instituted to honour individuals with track record of exemplary leadership, selfless service and commitment to the overall improvement of humanity.
According to her, awardees in this category were carefully selected for the impact which their selflessness and passion had brought towards meaningful change in the larger society.
NCMG explained that the 2018 Posthumous Peace Awards to Dr. Adadevoh was in recognition of her heroic efforts and unwavering commitment to selfless service for which she paid the ultimate price with her life for Nigerians and Africans might live.
"She remains an epitome of peace, and it is our belief that this award will serve as a symbol of our appreciation for her contribution and service to humanity," the organisers said.
READ ALSO: Photos of the day: Prince Charles and Princess Camilla's Visit to Nigeria in colour
"Late Mr. Gamaliel Oforitsenere Onosode, was chosen and singled out for this honour in recognition of his exemplary life, illustrious career and unfettered commitment in making the society a better place.
"His outstanding character, display of integrity and strong moral convictions left an indelible mark not only in the Nigerian corporate world but among those associated with him irrespective of creed, class or colour," the group said.
NCMG expressed the hope that such recognition would serve as motivation for other categories of Nigerians to emulate the exemplary lives the two personalities demonstrated during their lifetime.
Dr. Christopher Kolade, who chaired the event, commended the founder of NCMG, Mr. Kehinde Aina, for keeping the country alert in conflict management.
The keynote speaker, Sentell Barnes, Resident Programme Director, Nigeria, International Republican Institute (IRI) lamented that democracy was still being treated like a foreign concept in Nigeria as it meant different things to different people depending on where their interest lies.