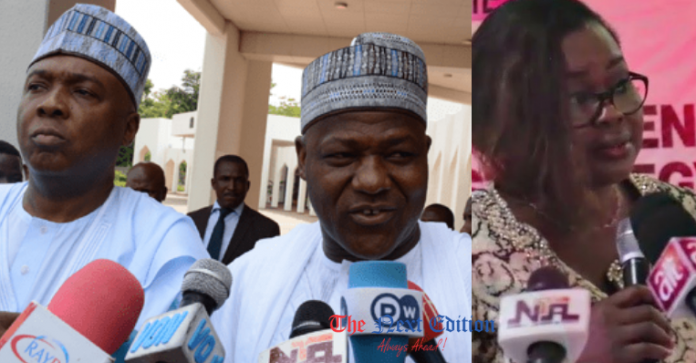 The Nigerian Guild of Editors, NGE, has described the new guidelines for accreditation of media organisations and journalists to cover the 9th National Assembly as anti-press and anti-people.
It, therefore, rejected the guidelines in their entirety.
The Body of Editors in a statement by its General Secretary, Mary Atolagbe, said the move by the National Assembly was "an infringement on press freedom, primitive, undemocratic and blatantly anti-press and anti-people."
The 20-point guideline issued by the management of NASS on Monday is due to come into effect on June 11, 2019.
The guidelines, which have been described as 'draconian, 'satanic' and an attempt to gag the media, demand, among others, that journalists seeking to cover the activities of the legislators must bring their companies certificate of incorporation, tax returns, evidence of membership of professional bodies and their letters of employment.
The statement by the Guild read in part: "The Guild, however, finds this vexatious, disrespectful and draconian. It is a scurrilous attempt to gag the press in a democracy and it cannot stand.
"These guidelines run contrary to the grains of reason, democratic ideals and they are a clear affront on the letter and spirit of the Nigerian Constitution, which empowers journalists to freely practice their profession without any gag, muzzling and restriction.
"The NASS guidelines negate the Constitutional principle of freedom of expression and run contrary to the African Charter on fundamental rights and the right of the people to know.
"The Guild strongly objects to these guidelines in their entirety as they serve no public good except the myopic interest of its chroniclers and purveyors.
"The Guild is disappointed that the same 8th National Assembly, which benefited immensely from free press in its moments of trial has turned around to put the same press in shackles and chains.
"We reject this crude abrasion of our Constitutional rights to freely disseminate information. It cannot stand."
It, therefore, urged all media houses to reject the infringement on the nation's media who fought for restoration of democracy in the nation.
READ ALSO: Exclusive: Next Edition Report: Nigerian Army, Benue, Taraba Govts, take action against extortion on highways
Meanwhile, the Socio-Economic Rights and Accountability Project, SERAP, has asked the leadership of NASS to withdraw the guidelines, describing them as 'repressive.'
It threatened that if the NASS leadership failed to withdraw the guidelines, it would take legal action against them.
A statement issued on Tuesday by the Deputy Director of SERAP, Kolawole Oluwadare said: "Nigerians expect the leadership of the National Assembly to show a greater level of transparency and accountability and to explain and take responsibility for what they are doing rather than implicitly banning journalists from covering their public functions. Implementing the 'accreditation guidelines' would allow the lawmakers to escape accountability for their Constitutional functions."
The organization urged the Senate President, Bukola Saraki, and Speaker of the House of Representatives, Yakubu Dogara, to "open the windows and let in the daylight' into the National Assembly by immediately withdrawing the accreditation guidelines and allowing journalists to freely cover the activities of leadership and members of the National Assembly."
It said it would: "pursue national and international legal action if the unlawful guidelines are not withdrawn by Friday."
SERAP noted that the accreditation guidelines were designed deliberately "as barriers against transparency and accountability" and amounted to "a blatant violation of the rights to freedom of expression, freedom of information and media freedom, the fundamental rights lying at the heart of any system of democratic governance."
It also said the guidelines were "contrary to constitutional provisions and Nigeria's international human rights obligations and the notion of free marketplace of ideas, necessary to serve the best interests of the public."