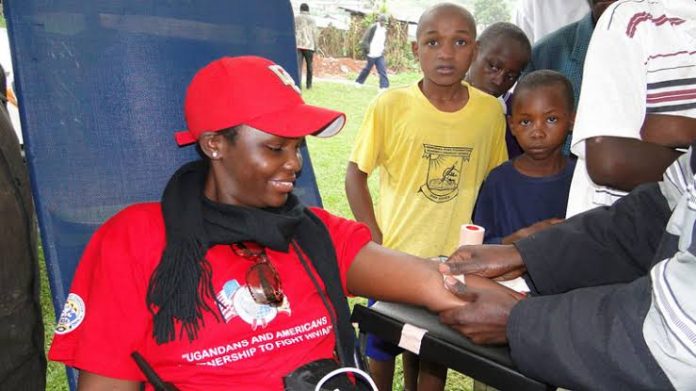 The National Agency for the Control of Aids (NACA) in collaboration with a member of House of Representatives, representing Buruku Federal constituency of Benue State, Jimin Sokpo, has given treatment to 600 people in a two-day HIV medical outreach held in the state.
The two-day medical outreach, which kicked off on Monday at Buruku, headquarters of Buruku local government area of Benue State continued on Tuesday.
The medical outreach focused on HIV counselling and testing as well as treatment of other illness such as malaria, blood pressure, sugar level and other medical problems.
Speaking while flagging off the medical outreach, the federal lawmaker representing Buruku federal constituency, Jimin Sokpo said the event was primarily to carry out HIV testing and counselling as well as diagnose and treat other opportunistic infections that come along with HIV.
Speaking through his legislative aide, Valentine Vembe, Sokpo said "NACA medical team was already on ground to monitor how well the HIV cases have been managed to know whether the virus is reducing or increasing in the area.
"300 people were treated and tested on Monday at Buruku and we are hopeful to test and treat another 300 today at Abua, in another part of Buruku.
"That is why NACA is here. We will be testing the people for HIV and those who are already on drugs we will see how well they are taking their drugs while those who are not on drugs would be tested and placed on drugs."
Recall that Benue had been one of the states with high prevalence of HIV/AIDS disease in the country.
READ ALSO: Growing Rate Of Undetected High Blood Pressure In Children Is Worrisome – Cardiologist
While the global interest targets end to AIDS by 2030, Nigeria has achieved significant strides in the fight against the disease.
According to the National HIV and AIDS and Reproductive Health Survey 2012 (NARHS Plus II), the national prevalence which was previously 3.4 percent is now reportedly 1.5 percent among adult HIV with a projected estimate of 1.9million people living with HIV.
It was for this reason that NACA is collaborating with the lawmaker in the area of HIV testing and counselling to ensure the reduction of the virus to the barest minimum across 13 council wards in Buruku Local Government area.
Some of the beneficiaries who spoke to journalists including Joseph Abeda, Mama Alu and Pa Abaa Mtoo all appreciated the organizers for attending to their health needs saying the medical outreach would help many of the locals who hitherto had been ill but could not access medical treatment for financial reasons.