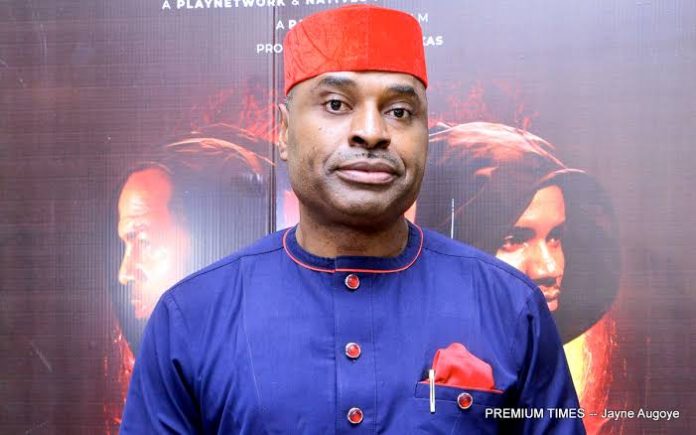 Famous nollywood actor, Kenneth Okonkwo, has resigned his membership of the All Progressive Congress, APC.
Mr. Okonkwo's resignation came a few days after the APC presidential candidate, Ahmed Bola Tinubu, a Muslim from the South-West chose the former Borno state governor, Kashim Shettima, also a Muslim from the North, as his running mate in the forthcoming presidential election.
In a letter dated July 11, 2022, the veteran actor said the decision of the APC presidential candidate to choose another Muslim as a running mate was not only against what the party stands for but will permanently destroy the political viability of northern Christians in Nigeria if allowed to stand.
He explained that he had joined the APC because of its manifesto, saying that as a convener of the Campaign for Equity and Justice in Nigeria, he can no longer continue to lend his name to "these abnormalities in the interest of mutual peaceful co-existence, integration and progress of our beloved country, Nigeria."
"Recall that we have lived up to this vow in our ward by ensuring that the Chief Imam of Army Barrack Mosque, who is a member of our ward, is carried along, as an executive member of our ward and his input carried along in all we do, under my leadership of the ward.
Those ideals are now alien to the APC, with their unfortunate decision to paint our Muslim brothers in bad light, by insinuating that the Muslims in Nigeria will not accept or vote for a Northern Christian as Vice-President to pair with a Southern Muslim.
READ ALSO: Kuje Jail Attack: Police Recapture One Inmate In Suleja
"If Muslims could vote voluntarily for Southern Christian Presidents, it is then a fallacy to insinuate that they cannot accept a Northern Christian Vice-President. This will permanently destroy the political viability of Northern Christians in Nigeria, if allowed to stand. This is in addition to their failure to protect the lives and property of Nigerians, which should be their primary responsibility. The economy is also in tatters.
"Being the convener of the 'Campaign for Equity and Justice' in Nigeria, and as a former member of APC Presidential Campaign Council, which resisted same- religion Presidential ticket in the past, I can no longer continue to lend my name to these abnormalities in the interest of mutual peaceful co-existence, integration and progress of our beloved country, Nigeria."
He said "I, therefore, resign my membership of the All Progressives Congress to enable me focus on building the Nigeria of our dream with the motto: Unity and Faith, Peace and Progress. Please accept the assurances of my warmest regards and best wishes."