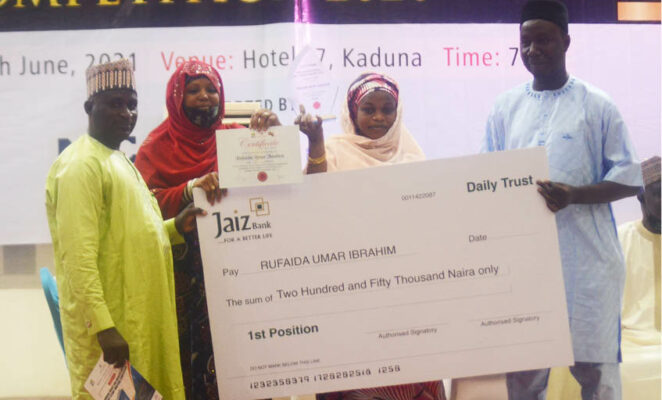 Mrs Rufaida Umar-Ibrahim, has emerged winner of the 2020 edition of Aminiya-Trust Short Story Writing Contest.
The competition was organised by Media Trust Limited in partnership with Gandun Kalmomi and Open Arts.
The contest was on short stories written in Hausa language, and winners were presented with their awards at a ceremony on Saturday in Kaduna.
Mrs Umar-Ibrahim's story, "Dimokuradiyyar Talaka", was selected as the best, while two others came second and third in the contest.
The winner, a mother of two who began publishing her works in 2014, went home with N250, 000 prize.
She said she was inspired to start writing by the love she has for reading.
"Initially, I was writing on paper but in 2014, I published my story "Mahaifiya" in a Facebook group," she said while receiving the award.
"Dimokuradiyyar Talaka" was the story of a young man, who abandoned everything and joined the campaign train of a candidate whose promises encouraged him to start dreaming about a better future.
He was however jailed at the instance of a local government chairman and after his release from prison, returned home to find his mother dead.
The second prize was won by Mubarak Idris-Abubakar's story, "Tufka da Warwara" while the story written by Ubaida Usman, "Ranar Kin Dillanci", was third.
READ ALSO: Facebook Suspends Trump For 2 Years
Earlier, Mr Naziru Abubakar, the Editor-in-Chief of Media Trust Limited, said the contest was to awaken people's interest in learning , writing and speaking Hausa language.
He said that apart from discovering talented authors, the contest was also to encourage parents to allow their children to embrace the language.
Abubakar said Hausa remains the most spoken language in Africa, and pledged that the company would ensure the growth of its Hausa language newspaper, Aminiya, the competition and Hausa language in general. (NAN)