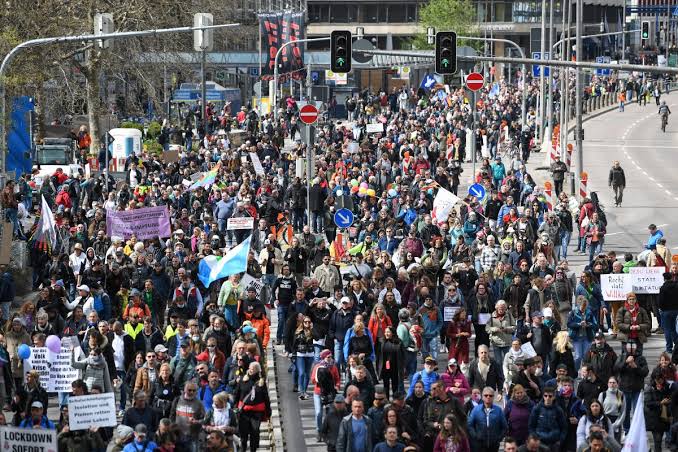 More than 10,000 people – most of them without face masks – took part in a rally in the south-western German city of Stuttgart against coronavirus measures on Saturday.
The rally was organised by the Querdenken (Lateral Thinking) movement, according to the Police.
Querdenken movement is made up of COVID-19 deniers, right-wing activists and anti-vaccination campaigners.
However, despite threats by the city to break up the event if health guidelines weren't followed, hundreds of police officers on duty did not intervene.
The situation itself remained relatively peaceful.
State Health Ministry Director, Uwe Lahl, expressed incomprehension over how the demonstrators were allowed to gather in Stuttgart.
He said the city had decided against a ban on the gatherings, even though current law would have allowed it.
"That was wrong from an infectious disease perspective at this stage of the pandemic,'' Lahi said.
He pointed out that while the rest of the population was expected to follow strict contact rules over the Easter holiday, the demonstrators could march without masks or physical distancing.
Stuttgart city spokesperson, Sven Matis, said the state's current ordinance does not restrict the fundamental right to assembly.
The concept of police and city officials was that all participants would, in the end, gather at the Cannstatter Wasen festival area on the banks of the Neckar River instead of moving through the city.
The Police were stationed throughout the city for the course of the day, as a series of up to 10 rallies was planned.
Several hundred officers were policing the demonstrations.
The movement is currently subject to monitoring by the domestic intelligence service, the Office for the Protection of the Constitution, for the state of Baden Wuerttemberg, of which Stuttgart is the capital.
READ ALSO: Easter: Stop Voting For Dishonest People – Bishop Olumakaiye
Meanwhile, counter-demonstrators sought to block the rally.
The Police said their faces were covered and they sat on the road or on bikes, blocking the route.
The Police have since dispersed that crowd.
The Police said they had deployed helicopters to monitor the events, adding that violations of mask-wearing and social-distancing rules would be documented.
"I see 20 people wearing masks, and they are the police,'' said police spokesman, Stefan Keilbach.
The Police in Stuttgart said 20 people suspected of being from a motorcycle club were expelled after they were searched at noon and found to have fighting gloves, balaclavas and pyrotechnics.
In the past, there have occasionally been violent clashes involving opponents to the health regulations imposed due to the pandemic, most recently in Kassel, where more than 20,000 people attended an event at which only 6,000 were permitted. (dpa/NAN)