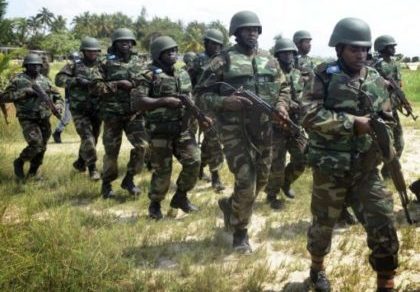 The Nigerian Army on Wednesday broke its silence on the number of causalities from the November 18, attack on troops' locations at Metele, confirming that 23 soldiers were killed and 31 others wounded.
Media reports had claimed that 44 to 100 military personnel were allegedly killed in the attack carried out by Boko Haram terrorists.
A statement issued by Brig.Gen. Sani Usman on behalf of the Chief of Army Staff, Lt.Gen. Tukur Buratai, on Wednesday, the army, also said that between Nov. 2 and Nov. 17, the terrorists attacked troops' positions at Kukawa, Ngoshe, Kareto and Gajiram adding that the attacks were repelled, "but 16 soldiers were killed, while 12 others sustained injuries in those incidents.
"The sacrifices of these fallen heroes will not be in vain. We also wish all those wounded in action speedy recovery and assure them of our continued support and care."
He explained that the Nov. 18 incident happened at a time the Nigerian Army was planning to hold the Chief of Army Staff Annual Conference for 2018 in Benin City leading the Army to move the conference to Maiduguri in order for its leadership to get closer to the troops on the ground and "to better appraise our activities, assess our performance and identify our shortcomings as an army."
The statement said further: "We are also sensitive to the fact that the nation is approaching an election year and thus we must be prepared to assist in providing security for the peaceful conduct of elections.
"Accordingly, the theme for this year's annual conference is aptly titled, "Optimizing the Operational Efficiency of the Nigerian Army Towards Safeguarding Democracy and National Security in Nigeria."
READ ALSO: Insecurity, killings: Declare state of emergency in security- presidential candidate
Usman noted that since 2015, the army in conjunction with sister services and other security agencies had systematically degraded the capabilities and capacity of Boko Haram terrorists and recorded many successes but conceded that in the last two to three months, there have been daring moves by the terrorists, who had used drones against troops' defensive positions and infusion of foreign fighters in their ranks.
"These potent threats require us to continually review our operations. The Nigerian Army wishes to reiterate and pledge its total commitment to the defence of the Constitution of the Federal Republic of Nigeria. We wish to reassure all Nigerians of the commitment of the Nigerian Army to defend our country at all costs. We shall also continue to remain apolitical, professional and responsive in the discharge of our constitutional roles.