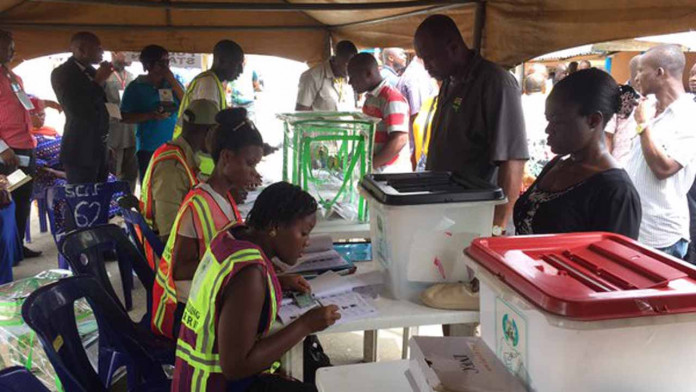 The local government election in Lagos State on Saturdaywas marked by low turnout of voters.
Although some blamed the poor turnout on the downpour in Lagos, many said it was as a result of disinterest while others believed it was as a result of poor awareness campaign.
At different areas monitored by our correspondent, accreditation and voting did not start on time.
At Alimosho Local Council Development Area, LCDA, for instance, in some wards, accreditation did not start until12.05 p.m.
This was hours behind schedule.
Electoral officers and the materials for the processes did not arrive on time too in some areas.
A similar situation was witnessed in other local governments of the state.
Speaking on the unimpressive turnout, a group,  Voters Awareness Initiative (VAI), described the turnout as below expectation.
It blamed it on lack of voters awareness.
According to the president of the group, Mr. Wale Ogunade, the turnout of voters was well below the expectations of the group and other civil society groups that monitored the elections.
Ogunade said that although the election was peaceful, the apathy showed by the people was not good for participatory democracy.
"The turnout is far from what we expected.

"I have been in the trenches, encouraging and sensitising people to come out and exercise their political and civic rights but unfortunately, they did not respond.

"Also, many people did not know that there is an election today.

"Some of them just heard that there is a public holiday for the election and they decided to use the day to rest because they don't even know who to vote for.''
According to Ogunade, the 48 political parties in Nigeria should do more to discourage voters' apathy, instead of focusing solely on how to win elections.
"I am not too sure that we are up to seven groups that are seriously involved in voter education in Nigeria.

"So, it is obvious that we need more support,'' VAI president told NAN.
He disagreed that the heavy rainfall in some parts of Lagos caused the low turnout of voters in the state.
"If not because of the restriction of movement, people would have been going about and some of them would have been partying.

"So, the turnout has nothing to do with the rain.

"The electorate need to know that the people elected today will be in charge of their affairs at the local government level for the next few years.

"Besides, Section 24 of the Constitution enjoins voters to exercise this civic duty so there is need to create more voters awareness,'' he said.