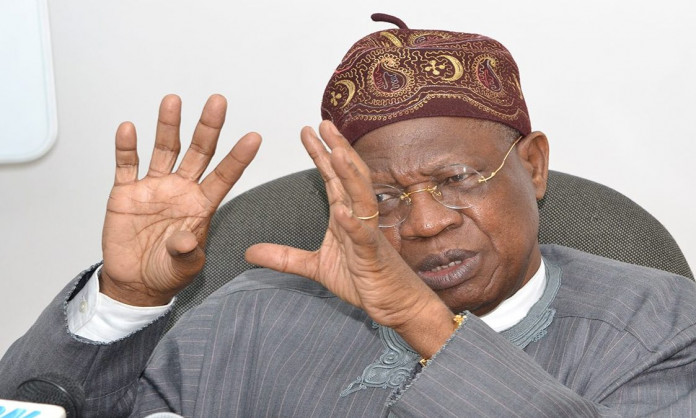 The Minister of Information and Culture, Alhaji Lai Mohammed, has said that no amount of media attacks or litigations can stop the federal government from releasing more names of alleged looters of the national treasury.
The minister said since he released the some names on the list some weeks ago, there had been moves to intimidate the federal government and stop it from issuing more.
He however, vowed that none of the moves would stop the government from going on.
The remark of the minister is contained in a statement issued by his media aide, Mr. Segun Adeyemi.
Mohammed also described as untrue, the widespread claim that the anti-corruption war by the government had become politicised.
READ ALSO: Ekiti guber: Why Fayose will rot in jail –Fayemi
His words:  "All the fuss about politicising the anti-corruption fight is aimed at preventing the government from releasing more looters' names and at the same time muddling the waters. We strongly disagree with them.
"But 1,000 negative write-ups or editorials will not deter us from releasing the third and subsequent lists. For those who have chosen to give succour to looters, we wish them the best of luck with their new pastime.
"We know where the pressure is coming from. However, the die is cast. We will not stop until we have released the names of all those who have looted our commonwealth. Those who have not looted our treasury have nothing to be afraid of."
Mohammed said much as the government did not have the power to convict anyone, it had the power to make Nigerians know those who allegedly looted the treasury.
While stressing its resolve not to be intimidated, Mohammed said the government was conscious of the desperation of the alleged looters and would not underestimate them.
"Nigerians must know those who have wrecked the country and mortgaged the future of their children," he said.
It would be recalled that following his inclusion in the list of alleged looters of the national treasury, the national chairman of the leading opposition party, Peoples Democratic Party, PDP, Uche Secondus, has gone to court.
He said he had been defamed through the inclusion of his name on the list and would need redress.