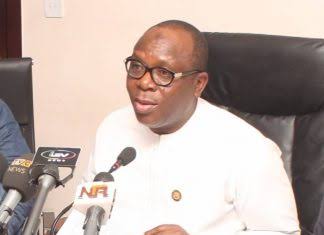 The Lagos State Commissioner for Home Affairs, Anofiu Olanrewaju Elegushi, has unveiled the state government's activities to celebrate Nigeria's 60th Independence Day anniversary.
Elegushi, at a press briefing at Alausa, Ikeja, on Wednesday, as part of the activities and in compliance with the COVID-19 protocols, said the state government would hold a Jumat Service on Friday, September 25, 2020 at the Lagos State Community Central Mosque, Alausa, Ikeja by 1.30pm.
READ ALSO: 10 Men In Lagos Court Over Alleged Cultism
Also it would hold a Thanksgiving Service (interdenominational) on Sunday, September 27, 2020, at the Chapel of Christ The Light, at CIPM Road, Alausa, Ikeja at 10am.
He said the government would also hold an Independence Day Parade on Thursday, October 1, 2020, at the Agege Stadium, Agege by 9 a.m.
Noting that this year's Diamond anniversary was a milestone worth celebrating, the commissioner stated: "This year's Independence calls for celebration, although we cannot roll out the drums due to the scourge of COVID-19 that is still with us.
"However, this Diamond Jubilee calls for sober reflection and thanksgiving to the Almighty for keeping the Nigerian state together thus far.
"60 years of unity despite various challenges the Nigerian state has had to face and surmount; 60 years of ongoing socio-economic development; 60 formidable years of forging ahead in spite of several daunting obstacles lining our path of greatness."
Elegushi commended the foresight, dedication and passion of Governor Babajide Olusola Sanwo-Olu for deploying all resources at his disposal with quick dispatch to mitigate the spread of the global pandemic.
He said the "Sanwo-olu administration is poised to deliver the dividends of democracy at every level of governance.
"Presently, there are ongoing massive infrastructural developments in the state in tandem with the T.H.E.M.E.S agenda of this administration, which is aimed at aiding commercial activities and geared towards making Lagos a 21st century economy."