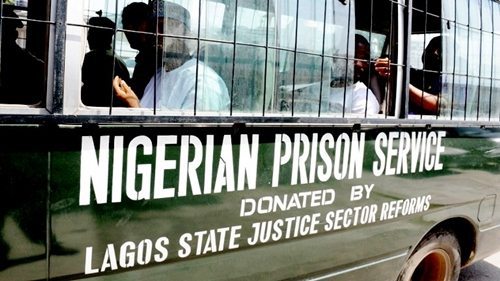 Lagos has emerged as the state with the most congested prisons in the country.
This is according to the latest information released by the National Bureau of Statistics on Thursday.
The statistics released by the NBS reflect the prison population in Nigeria by total detainees, prison capacity and number of un-sentenced detainees by state and year.
The statistics also reflect prison inmate population by gender from 2011 to 2016.
Top lead the pack of states with prison congestion, Lagos State recorded 7,396 prison inmates population as against a prison capacity of 3,927.
The state is closely followed by Rivers and Kano states as those with high rate of prison congestion.
Rivers and Kano states have 4,424 and 4,183 prison inmates population respectively.
Nigerian states with the lowest prison inmates population, according to the NBS, as of 2016 are Ekiti and Bayelsa states with 444 and 585 as against a prison capacity of 200 and 400 respectively.
The overall prison population in the country in 2016 was 68,686 as against 65,033 in 2015.
This is a marked increase in prison congestion.
READ ALSO: Hadiza Abubakar is new chair, wives of northern govs
The increase in prison inmates population in 2016 represents about 5.62% growth in comparison to the overall prison population in 2015.
Another pressing issue identified from the data provided by NBS is the number of untried and un-sentenced prison inmates wallowing in Nigerian prisons without getting proper justice.
For instance, in the Federal Capital Territory, as at 2016, out of 1,383 inmates in prisons across the city, about 720 of them were yet to be sentenced with a large proportion yet to be tried.
According to several accounts from officers of Nigerian Prison Service, there were quite a few of them who had been awaiting trial for almost a decade.
In terms of prison inmates by gender, 67,329 inmates across prisons in Nigeria were men while only 1,357 were women as at 2016.
Prisons overcrowding which has been a massive issue with Nigeria's correctional system for almost two decades continued with an overcrowded number of 17,883 inmates as the prison capacity in 2016 was 50,803 with a prison population of 68,686 inmates nationwide.